People often look at cakes and question 'where did they get the idea from'? 'where did they begin in making that'? and 'I wonder how long that took them'?
Here Alice answers all of these probing questions and more! Alice designs lots of our moulds and incorporates them into her fantastic cake designs. Being Karen's daughter, Alice has followed in her mum's footsteps and has grown up in the world of cake decorating.
Where did you find the inspiration to make this cake?
I was looking online for a gift for a friend on Not On the High Street and stumbled across a gorgeous mug (not appropriate for my friend but I thought wow!). I love, love, LOVE Christmas and even though it was only September at the time it got me a bit excited.. I love Winter and being indoors with the fire lit, candles, warm, cosy, hot drinks and baked treats. My 3 year old nephew also loves hot chocolate and so I thought how cute it would be to create a quick and easy hot chocolate mug cake using our knitted effect moulds and my new Winter Village Mould.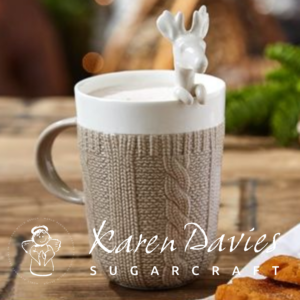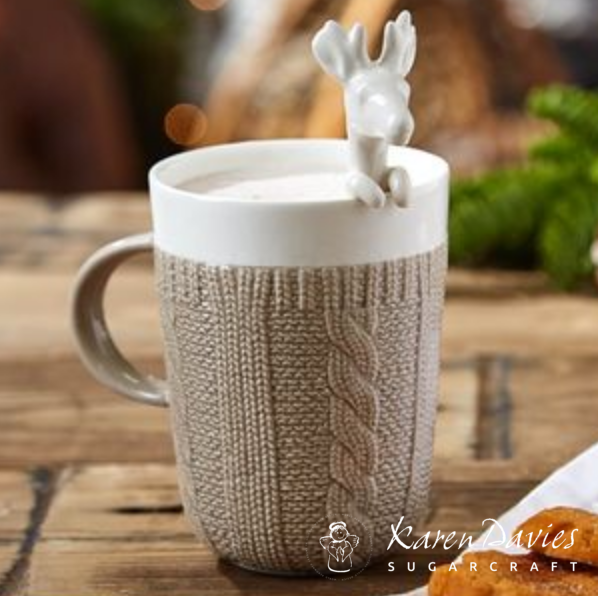 How did you make the cookies?
Firstly, I made my gingerbread dough using our perfect gingerbread recipe that won't spread. You could also make this cake using our plain biscuit recipe. Both can be found in our blog post 'How To Mould And Bake Perfect Cookies!'.
I've then moulded a house from our Winter Village Mould as well as a few trees and snowmen. I've also moulded the gingerbread man and woman from our Sitting Elf Mould. You simply treat your dough as you would with sugarpaste. Dust your mould with either cornflour or plain flour first and tap out any excess. Then simply press your dough firmly into the mould, turn the mould over and release on to a lined baking tray.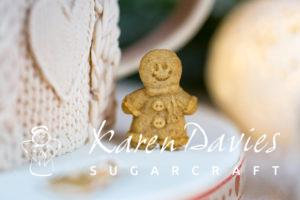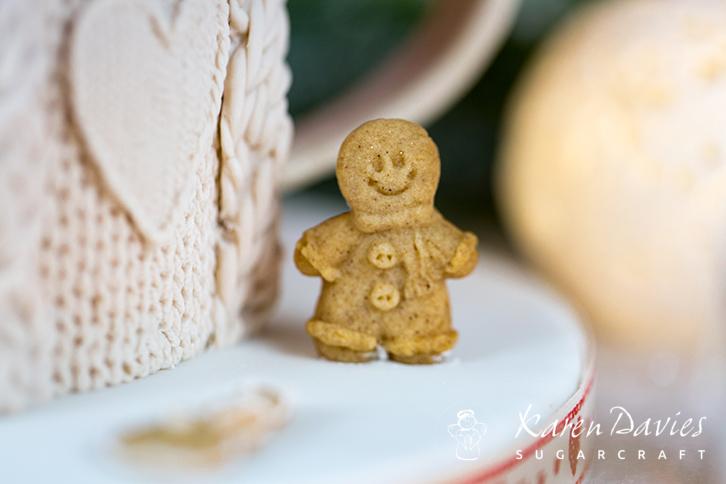 How did you begin the cake?
I began by creating the handle as this needs to be allowed to dry whilst you carry on with the rest of the cake.
I coloured flower paste using a tiny drop of Rainbow Dust's Chestnut Brown Gel Colour. I then rolled a sausage of paste and flattened it out using a rolling pin. You can then trim this into a perfect long rectangle using a pizza wheel. Gently smooth any edges with your fingers before bending into a C shape. Make sure your top and bottom edges are in line with each other as you want them to attach against the mug perfectly i.e you don't want one end of handle meeting with the mug and the other not.
How did you create the mug?
I used a 4″ round 4″deep cake and started by covering the top surface of the cake with very thin layer of our Marshmallow sugarpaste. I then rolled out a long piece of the sugarpaste and using a ruler cut it using a pizza wheel so that it was 4.2″ high and wide enough to wrap around the sides of the cake. I then attached the piece around the sides of the cake and trimmed away any excess at the back. The beauty of this cake is that you won't see the join once your knitted effect is attached! Just try to get the top 2cm of the join as perfect as possible as this will be the only part still on show.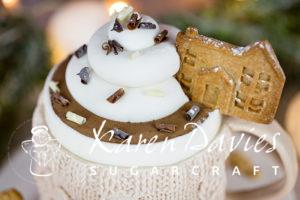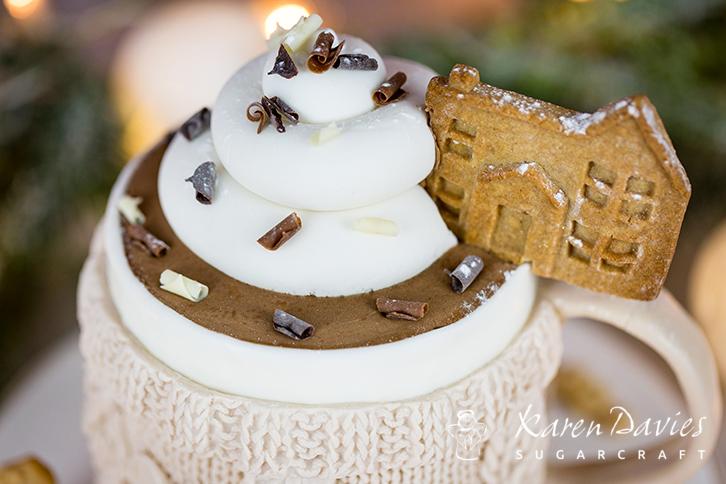 How did you create the hot chocolate?
I first debated whether to use piping gel as this is what I normally use when creating a liquid but I decided it wouldn't be the right consistency for hot chocolate and so I coloured Royal Icing with Brown food colouring and watered it down slightly. I then flooded the top of the cake and used a cocktail stick to push the icing right up to the edges of my white paste.
How did you create the whipped cream?
I waited until my royal icing had dried and then I rolled a large tapered sausage of white sugarpaste. I then wrapped it around on top of itself. You may need to brush a little edible glue underneath each layer so as it sticks to itself. I then attached the cream on top of the hot chocolate and attached chocolate curls (bought from Asda!) on top and around the hot chocolate.
Which moulds did you use to create the knitted effect?
I decided to first use our Knitted Piece Mould. It's gives you a beautiful, fine knitted pattern. I coloured our sugarpaste using the Chestnut Brown gel colour again so as it would match the mug handle. I moulded a knitted piece and then held it up against my cake to decide what height I needed it to be. I then trimmed it using a pizza wheel and attached it around the sides of the mug and repeated the process until the sides were fully covered.
I then used my Rustic Cable Knit Mould and used the medium sized cable to create the cable effect around the sides. I spaced them evenly around the cake starting from the centre. There are 6 in total. I also used my thumb to gently press and flatten the top edge so the rib effect could be attached around the top. I used our Chunky Rib Mould to create the edging around the top and then finished by moulding the large knitted heart off the cable knit mould and attaching imbetween each knitted panel.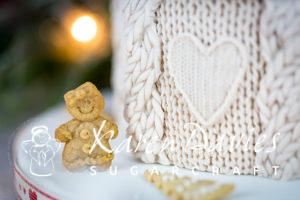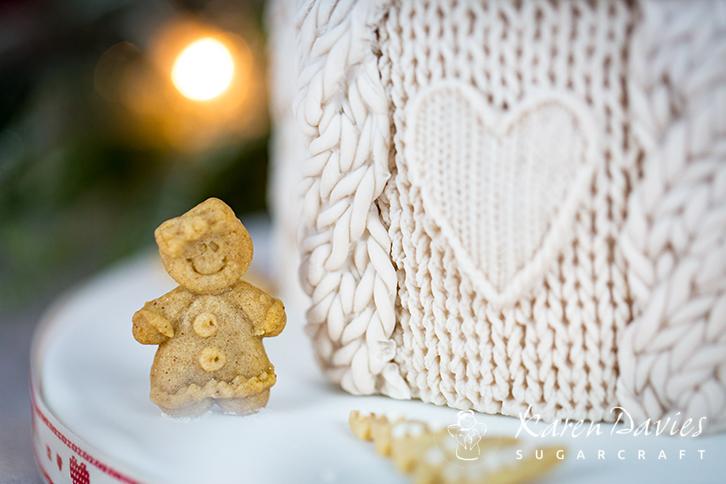 Who do you imagine this cake would be for/what occasion?
I think this would look cute and be a great addition to any Christmas table, party or event. I also think children would love it!
How long did the cake take you from start to finish?
I decorated this cake in 2 hours! It was super quick and easy as it's mostly due down to the speediness of the moulds. Also, you can be getting on with your cake whilst you're waiting for your cookies to bake and cool.