People often look at cakes and question 'where did they get the idea from'? 'where did they begin in making that'? and 'I wonder how long that took them'? Here, Christina Ludlam answers all of these probing questions and more..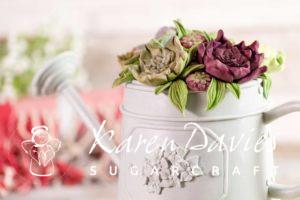 What inspired you to make this cake?
One of the classes I teach at my sugarcraft school is a watering can cake class and as soon as I saw the Succulent Mould, I knew they'd look perfect on a watering can.  I thought the Hydrangeas from the Filler Flowers Mould would make a great embellishment for the front of the can.
What was your starting point?
I started with the stacked 7" round cakes.  I dowelled the cakes and placed a thin cake card on top which I then decorated with succulents and moulded leaves before adding the spout, handle and decorative detail.
How did you shape your succulents?
I used scissors to separate the petals then pressed a Dresden tool beneath each petal to lift them.  I also pinched the ends of the petals then placed the succulents into a foil-cup former which I made by wrapping foil around a foam ball.
What food colouring did you use to create the grey watering can?
Sugarflair Liquorice paste colour, dusted with a little Silver Lustre Dust.
How did you create the detailing on the watering can?
I used the Hydrangeas from the Karen Davies Filler Flowers Mould for the floral embellishments.  The fine beading was created using a clay-gun (extruder) fitted with a 3mm round disc.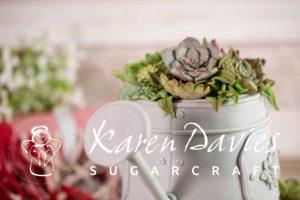 How did you create the spout and handle?
For the handle, I threaded a 20# floristry wire into a sausage of grey modelling paste before bending the wire to a curve and setting it aside to dry.
The spout was made by wrapping a strip of grey modelling paste around a thick, wooden skewer.  I cut a series of grey modelling paste circles and stacked them together to create the watering 'rose' (sprinkler) attachment, then used a fine piping tube to indent tiny holes in the watering rose.
How did you create the stone flooring effect?
This is an effect I've been creating for many years now and I never tire of it.  I covered the drum with marbled sugarpaste then textured the entire surface with a dish-brush and crumpled foil.  I used two round cake cards as a guide and used a Dresden tool to indent the individual paving stones, adding a few additional cracks here and there.  I then brushed a little powder colour into the cracks to highlight the texture.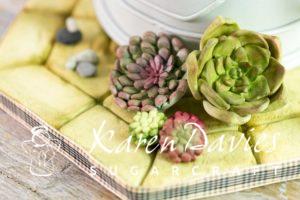 What dust colours did you use for the succulents?
I coloured the succulents with Sugarflair Eucalyptus, Moss Green, Forest Green, Burgundy, Claret, Edable Art Dark Eucalyptus, Eau De Nil, Vine Green, Rainbow Dust Snow Drift and Pearl White lustre.
How long did this cake take you from start to finish?
This cake took me around 10 hours to make from start to finish as I spent quite a lot of time colouring the succulents to get the exact look I wanted.
How far in advance could I make the succulents?
The succulents can be made weeks, or even months, in advance and stored until required.  I place my finished succulents into foil-cup formers then store inside an airtight container to keep them soft until required.  I like to allow them to air-dry for a few hours before attaching to the cake.