How To Make Bobble Hats

Keep your cakes and bakes warm this Winter with this fun bobble hat tutorial.
Make cute bobble hats using muffins or cupcakes and our range of knit and crochet moulds!
Watch our quick tutorial video and then follow the instructions below!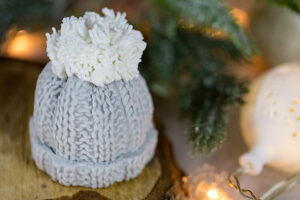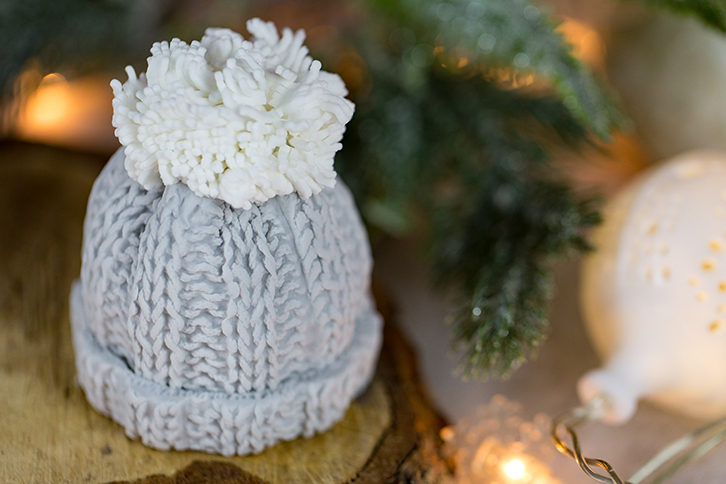 Equipment
Either..
Karen Davies Sugarcraft Chunky Rib Mould
Karen Davies Sugarcraft Knitted Piece Mould
Karen Davies Sugarcraft Crochet Piece Mould
And/Or..
Karen Davies Sugarcraft Chunky Knit Mould
Corn Flour
Blue, Grey, Lilac or Pink Food Colouring
Buttercream/Apricot/Chocolate
Sieve
Knife
Edible Glue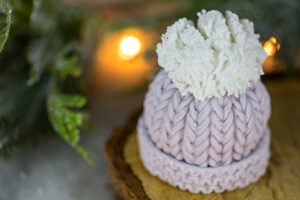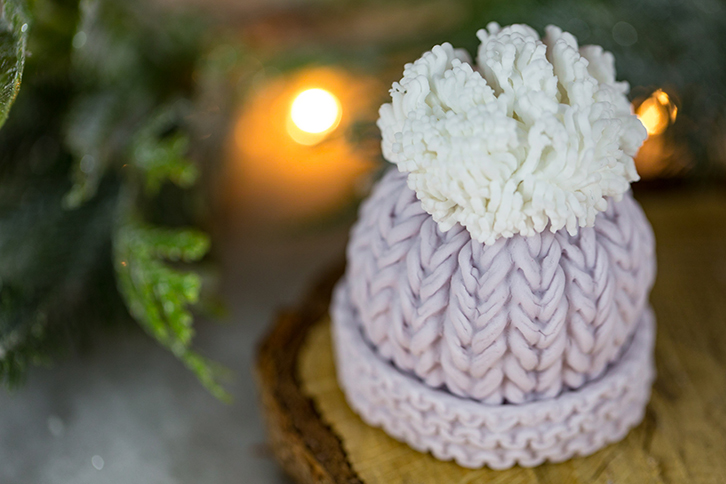 Instructions
Colour some sugarpaste in your chosen colour.
Take your muffin or cupcake and turn it upside down so as it's widest point is at the bottom. Trim bottom flat if necessary. Crumb coat in buttercream (jam, chocolate etc can also be used if preffered).
Dust which ever knit/crochet effect mould you have chosen with cornflour. Tap out any excess.
Roll out your sugarpaste roughly on your work surface and then place on top of your mould. Use your fingers to secure the bottom edge and one side edge down into the mould before using a rolling pin to firmly roll your paste into the mould. You should start to be able to see the pattern through the back of your paste.
Turn your mould over and peel back, your paste should peel easily out of the mould.
If your paste looks like it's going to be too big for your cake you can trim a little excess off. But there's no need to be precise, you'd rather leave yourself with more to work with than too little!
Wrap your paste around your cake and use your fingers to gently press and gather any excess together at the top. Use a sharp knife to carefully cut away any excess.
Use a Dresden Tool to help disguise any joins. Don't worry too much about the top as your bobble will cover it.
Brush the top of your hat with edible glue and then roll a ball of white sugarpaste and attach on top.
Brush around the base of your hat with edible glue and mould a trim from either the same mould or from another one of our knitted effect moulds. Trim to size before attaching using a knife or cutting wheel.
Use a Dresden Tool to help push the paste around the top edge of your trim right up against your bobble hat so as there are no gaps showing.
Brush the white ball on top of your hat with edible glue. Soften white sugarpaste with some Trex (white vegetable fat). Take a sieve and press a ball of sugarpaste firmly through the sieve. You can press/add more paste to the back of your piece until the strands are as long as you wish. Use a knife to scrape and lift off the 'fluff' carry it over to your ball of sugarpaste and use a dresden tool to help you position the fluff around the bobble. Repeat process until bobble is fully covered.
(OPTIONAL) You can personalise your hats with various items from our other moulds such as Bows, Buttons, or knitted hearts from our Cable Knit Mould.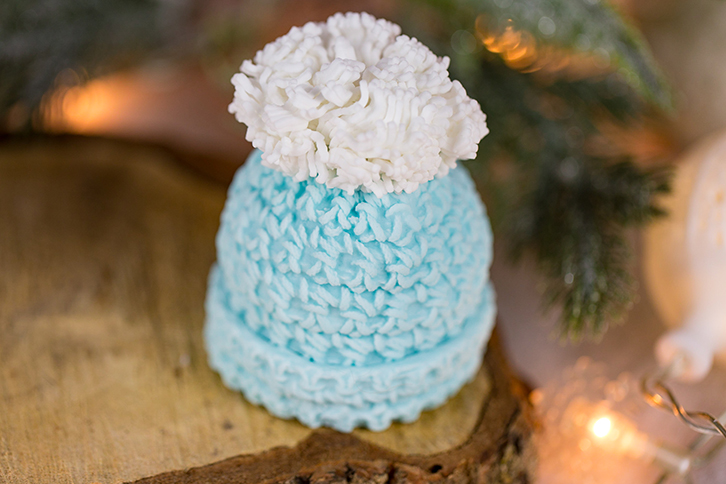 Baby it's cold outside..