People often look at cakes and question 'where did they get the idea from'? 'where did they begin in making that'? and 'I wonder how long that took them'? Here, Christina Ludlam answers all of these probing questions and more..
Farmyard Cookies
Which is your favourite cookie?
I love the horse cookie.  I was really pleased with how the barn doors turned out and the horse has such a cute face.  The horse cookie really makes me smile.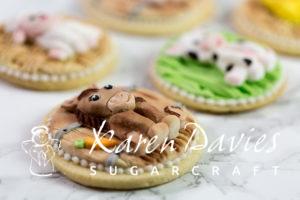 Which moulds did you use?
I used the Farm Animals Mould, Rustic Wicker Mould, Rustic Basketweave Mould and the Rustic Driftwood Mould.
How did you make the metal pieces on the barn door backgrounds?
For the metal bracing, I cut two narrow strips of grey sugarpaste and indented them at intervals with a #1 piping tube to indicate the bolts.  I painted the bolts with black food colour paste.
What size cookie cutter did you use?
These cookies were made using a 7 cm round cutter.
What cookie recipe did you use?
I used the recipe provided on the Karen Davies Sugarcraft website (200g sugar, 200g unsalted butter, 400g plain flour and 1 egg).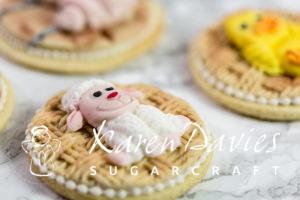 What dust colours did you use?
I used Sugarflair Nutkin Brown, Skintone, Primrose and Autumn Gold.  I also brushed a little cocoa into the woodgrain.
How long did they take you to make?
These cookies were very quick to make, thanks to Karen and Alice's beautiful moulds.  In fact, I think it probably took me longer to colour the sugarpaste than it did to decorate the cookies.
How far in advance could I make these?
The toppers for these cookies can be made weeks in advance.  Simply cut out and decorate the sugarpaste toppers then store them on parchment paper until required.  To keep them soft, store them in an airtight container until required.  If you prefer them to set harder, allow them to dry in a cardboard box.  When you're ready to decorate your cookies, use a little royal icing, piping gel or jam to attach the sugarpaste toppers.