These cute bunny bottom cookies make perfect Easter treats. Give as gifts or make with the kids this Easter! Can also be used as decorations on cupcakes and cakes.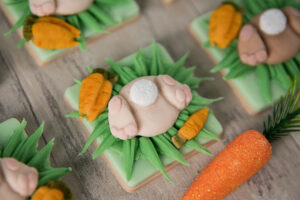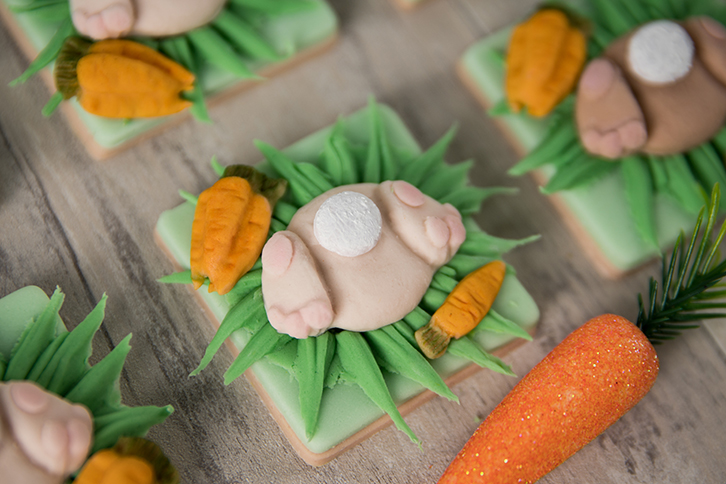 Equipment
Karen Davies Sugarcraft Wild Meadow Mould
Karen Davies Sugarcraft Easter Bunny Mould
Small Rolling Pin
Palette Knife
Edibles
44m square cookies baked using our cookie recipe >> see here <<
Icing Sugar
Apricot Jam
Cornflour
Sugar Flair Spruce Green food colouring
Rainbow Dust Chestnut food colouring
Rainbow Dust Tangerine food colouring
Rainbow Dust powder colours  – Autumn Green, Pumpkin Pie, Snow Drift, Pink Candy.
Edible Glue
1. First you will need to bake some delicious cookies using our cookie recipe! See the recipe here!
Make your dough, roll it out on to your work surface and cut cookies using a 44mm square cookie cutter. Place on a lined baking tray and bake!
2. Allow your cookies to cool on a cooling rack.
3. Colour some Karen Davies Sugarpaste pale green using Sugar Flair Spruce Green food colouring. Dust your work surface with icing sugar and roll your sugarpaste out thinly on your work surface. Use your cookie cutter to cut enough squares to cover all of your cookies.
4. Once your cookies have fully cooled, spread a thin layer of apricot jam on the top surface and attach a green square on each. 
5. Colour some paste a darker Green colour using the Spruce Green food colouring.
6. Dust your Wild Meadow Mould with cornflour and tap out any excess.
7. Roll a sausage of paste wide enough to fill the top quarter of the grass on the mould and long enough to fill the width. Place on top of your mould a quarter of the way down from the top of the grass.
8. Use your fingers to press the bottom edge of your paste into the mould. This will help hold your paste in place whilst you roll the rest up to the top of the grass.
9. Use a small rolling pin to roll your paste up the top of the grass. You may need to dust the back of your paste with cornflour to stop it from sticking to your rolling pin.
10. Make sure your paste is rolled thinly and flat against the mould. Carefully cut away any excess using a palette knife. If you cut over the top of the grass you will see that your paste will remain in the grass strands and any excess will come away.
11. Turn your mould over and peel back to release your grass. You can now dust it with Autumn Green Powder colour.
12. Cut your grass into thirds. This will give you enough grass for three cookies. Repeat steps 7-11 until you have enough grass for all of your cookies.
13. Take a strip of moulded grass and bend it into a circle shape so that both ends meet. Attach the ends together with edible glue.
14. Attach the circles of grass to the centre of each cookie using edible glue. Don't worry if there is a hole in the middle as your bunny bottom will hide it!
15. Colour different shades of pale Brown sugarpaste using Chestnut Brown food colouring.
16. Dust your Easter Bunny Mould with cornflour and tap out any excess.
17. Roll a small ball of sugarpaste and firmly press into the bunny bottom on your mould. Guide any excess paste to one edge and tear off with your thumb. Make sure your paste is flat at the back before turning your mould over peeling back to release.
18. Dust the pads on the bunnies feet using Rose powder colour.
19. Dust the tails with White powder colour.
20. Attach your bunny bottoms on top of the grass on your cookies using edible glue.
21. Colour some sugarpaste using Tangerine food colouring. Mould carrots from the Easter Bunny Mould. Dust the leaves with Autumn Green powder colour and the carrots with Pumpkin Pie powder colour before attaching to your cookies.