Tuesday, 06 November 2018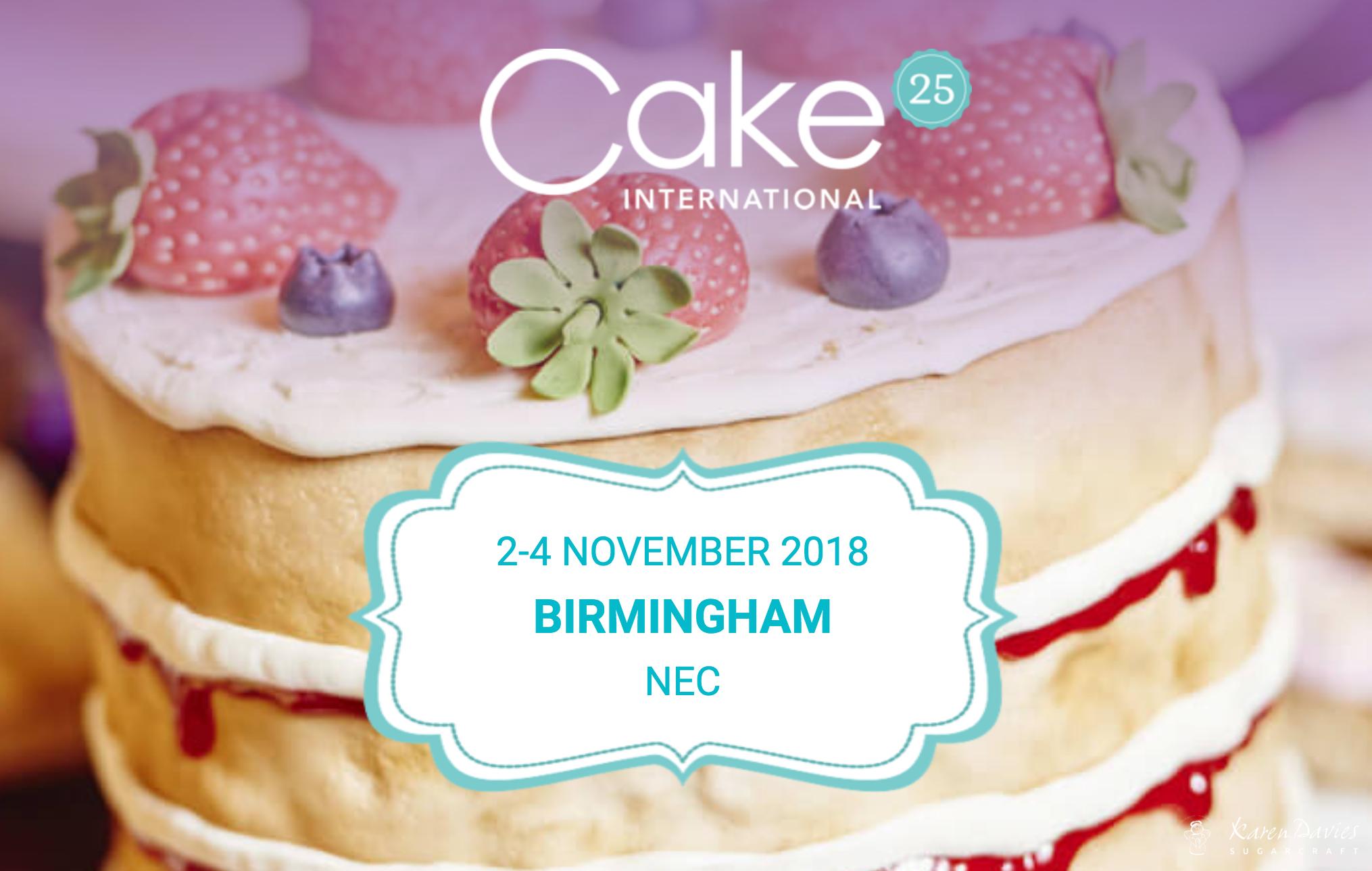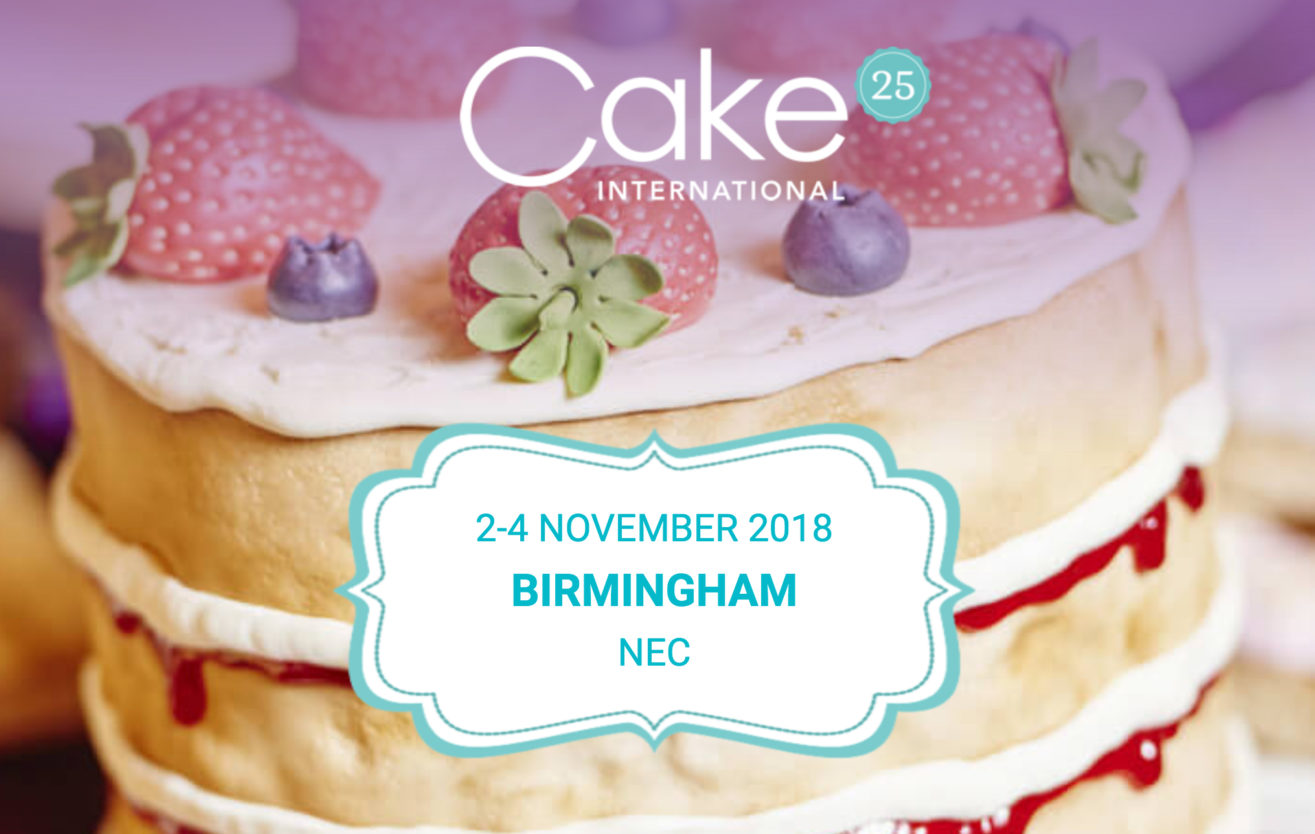 Wow! What a weekend!
We have attended Cake International for over 15 years now and each year it keeps on growing! This year was the show's 25th Anniversary and saw nearly 30,000 visitors through the doors and nearly 2000 Competitors in the world's largest cake competition!
It's fantastic to see that the baking and cake decorating industry keeps on growing. It has changed so much even just within the last 5 years. New names are constantly emerging, new talent, ideas and skills are developing and it keeps us all inspired and motivated.
Baking is becoming an art form and bakers and decorators true artists.
We first started exhibiting at Cake International in 2003 when Karen published her first book 'A Cake For Christmas Part 1'. Our stand was 4 x 1.5 metres in size and we only had one book on sale alongside 'Magic Sparkles' an edible glitter – which we still use to this day! We also had a small selection of cakes from the book on display.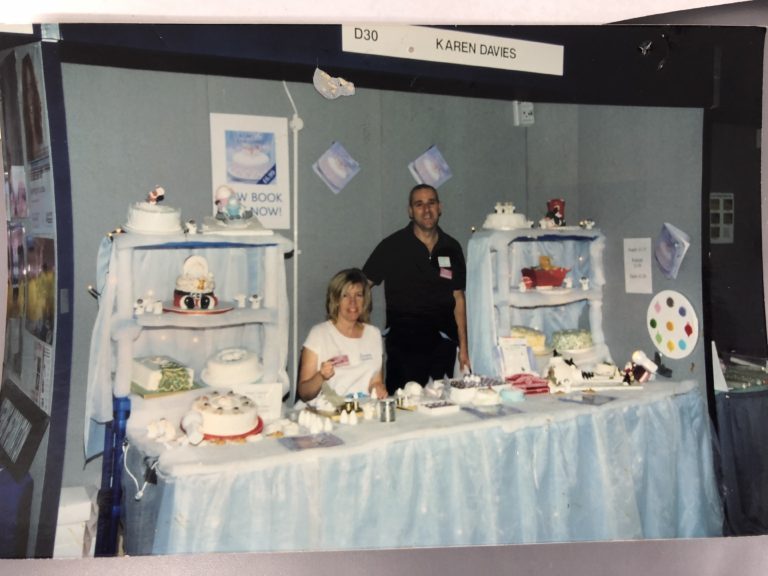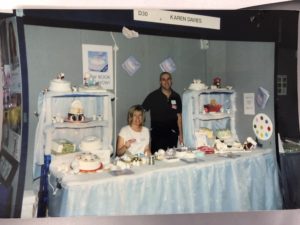 For the next five years, Karen and Barry continued to exhibit at Cake International, publishing a new book each year and bringing new cakes to display.
Customers at the show would ask Karen how she had created her beautiful figures and decorations and because she had a unique consistent style they asked if she had created them using a mould? This is how we came to designing and manufacturing our own range of moulds. The business was born!
We started developing and producing our range of moulds in 2008 starting with our Snowman Bobble, which still sells out year after year despite being 10 years old!
Each year our stand and display has grown and grown – now resulting in a 9 x 2.5 metres size stand and this year we had 47 cakes on display as well as cupcakes and cookies! We brought 40 of our moulds from our 106 strong mould range.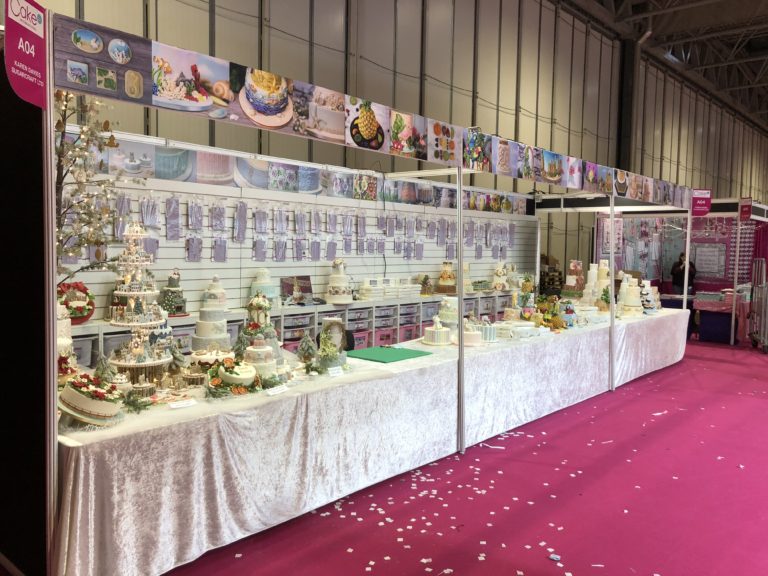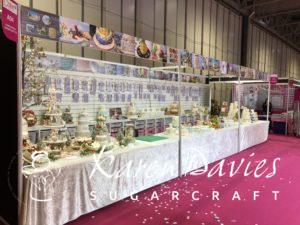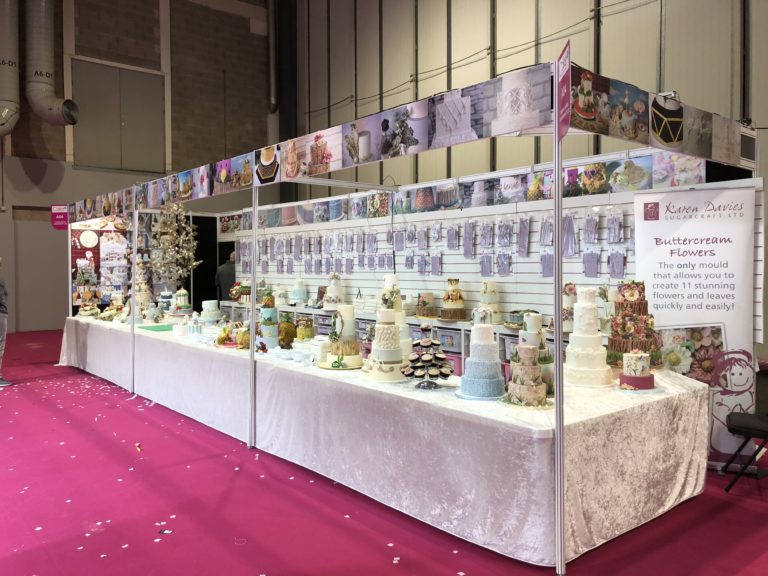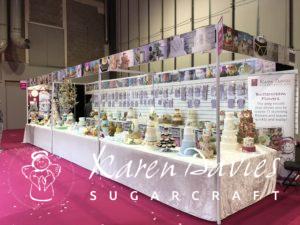 Each year we make it our mission to bring a better display than the previous year and to make our stand the best stand display in the show.
We try to fill our stand with a wide variety of cakes, cupcakes and cookies, leaving just enough room to be able to serve. This year we created our biggest Christmas display ever at one end of our stand, leading on to baby shower themed cakes, tropical and summer themed cakes and finally wedding cakes. Did you have chance to see our 5 tier Gingerbread Cookie Village using our Winter Village Mould?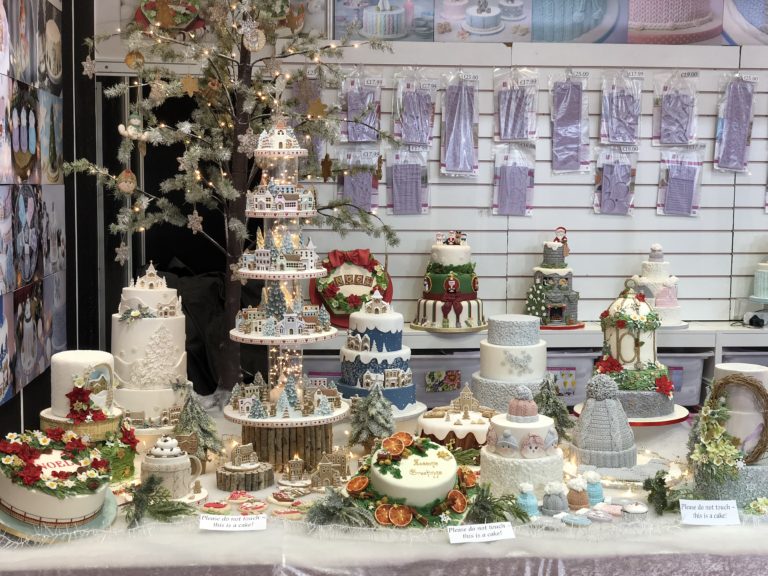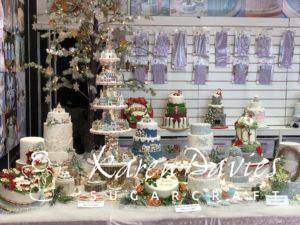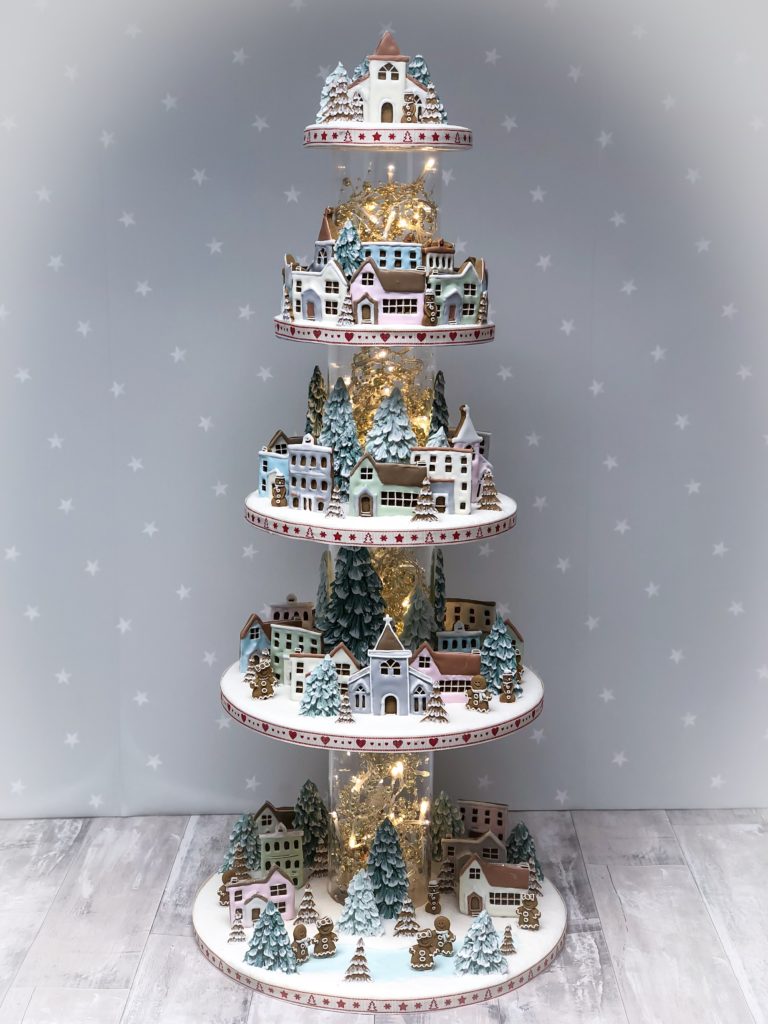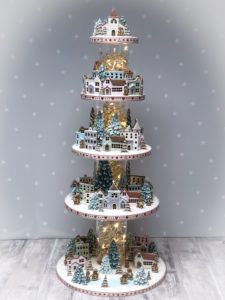 Alice's Gingerbread Winter Village cake was also on display at Cake Master's stand as it is on the front cover of their November issue! We were over the moon to find that everyone who attended the Cake Masters Awards on Saturday evening had a copy in their goody bag!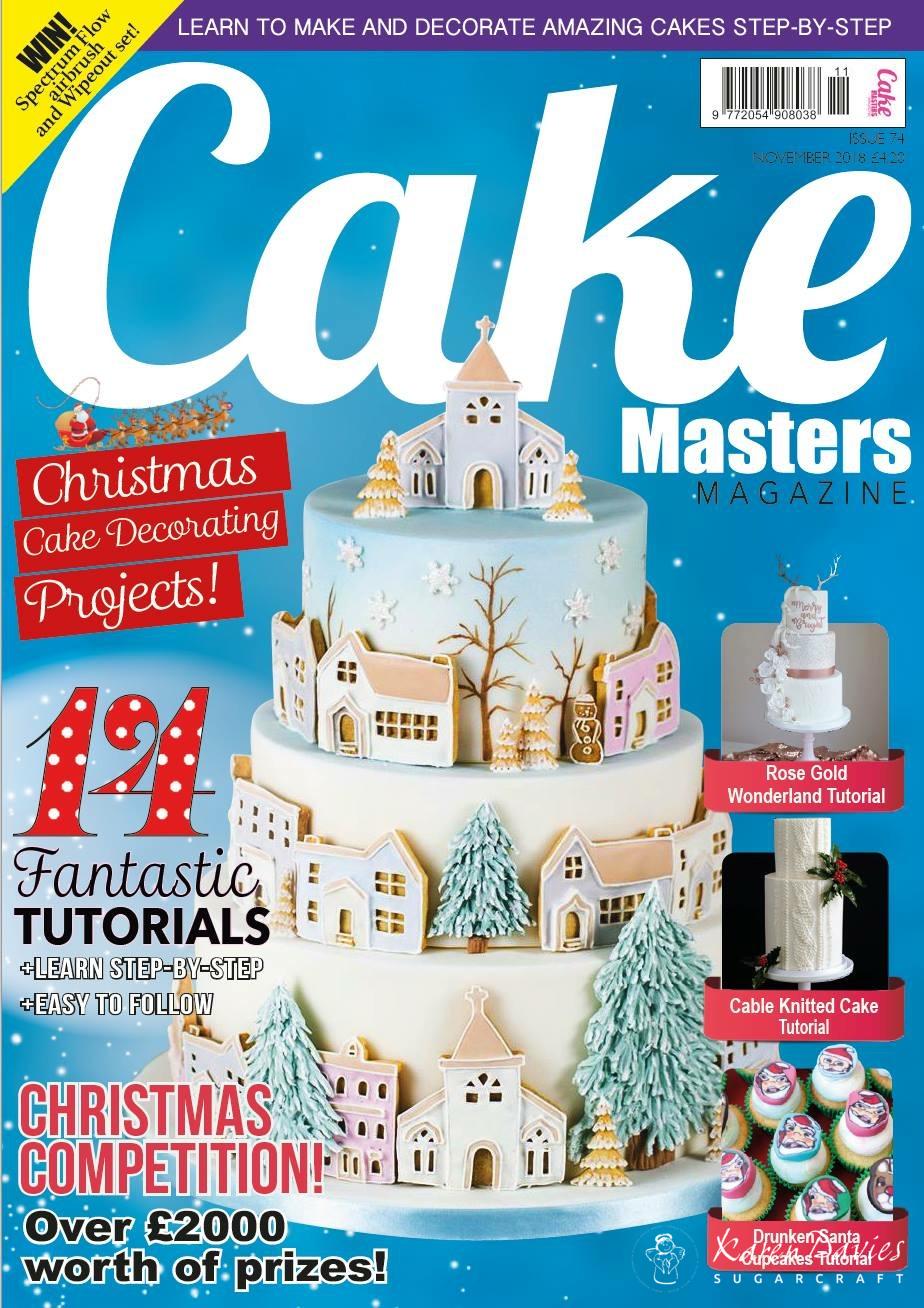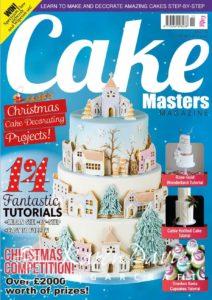 The show for us officially started at 12pm on Wednesday! This is when we start packing our van after weeks of preparation. It was a tight squeeze and we were worried that we wouldn't fit everything we needed to take into our vans! But it all worked out in the end, even if we did have to catch our suitcases every time that we opened the van door!
We set off at 6:00am on Thursday morning ready for set up day! We take two vans down with us. One with all of the cakes inside and one with all of our stand essentials and stock.
Assembling our stand takes around 2 hours and arranging our display takes around 4! We had one cake out of 47 break on our journey. It was one of our Winter Village cakes. All the buildings had collapsed and so we had to re-pipe them and re attach them so as we could finish our display.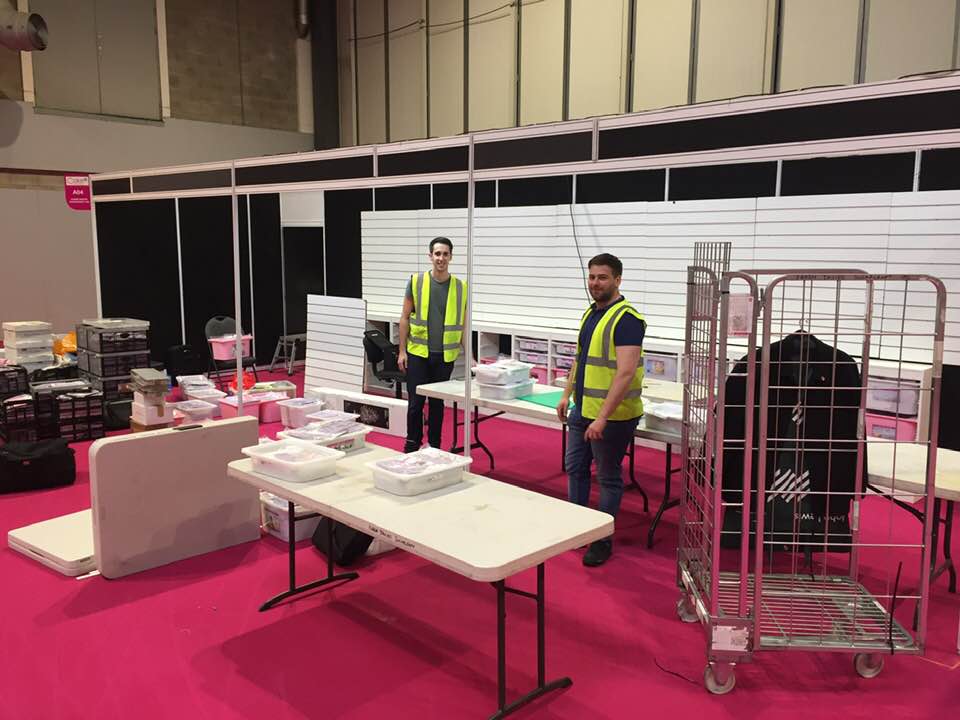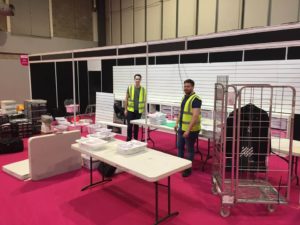 This is the first time that we get to see our display ourselves and we put a lot of time and effort into making sure that it's perfect. It's an amazing feeling to see a year's work of new releases, cakes and ideas all come together. We fell in love with our Christmas display and wish we'd hired a Santa to sit on our stand for the weekend to complete the 'grotto' feel! Maybe next year we can convince Barry…
By 4pm we are ready to collapse and get an early night in preparation for the next day!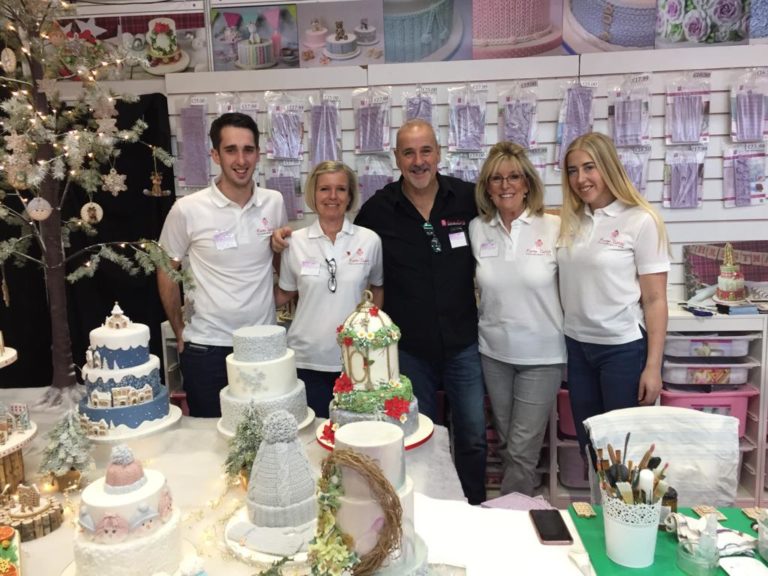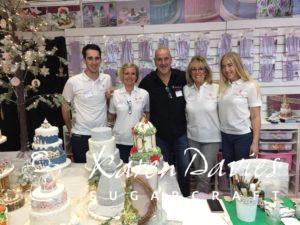 Well – Friday was crazy! This was the first year that we have been positioned in the top right corner of the show by the entrance and we were overwhelmed with customers as soon as the show started. We must have had at least 10,000 visitors to our stand over the three days. Half of these must have been on the Friday alone!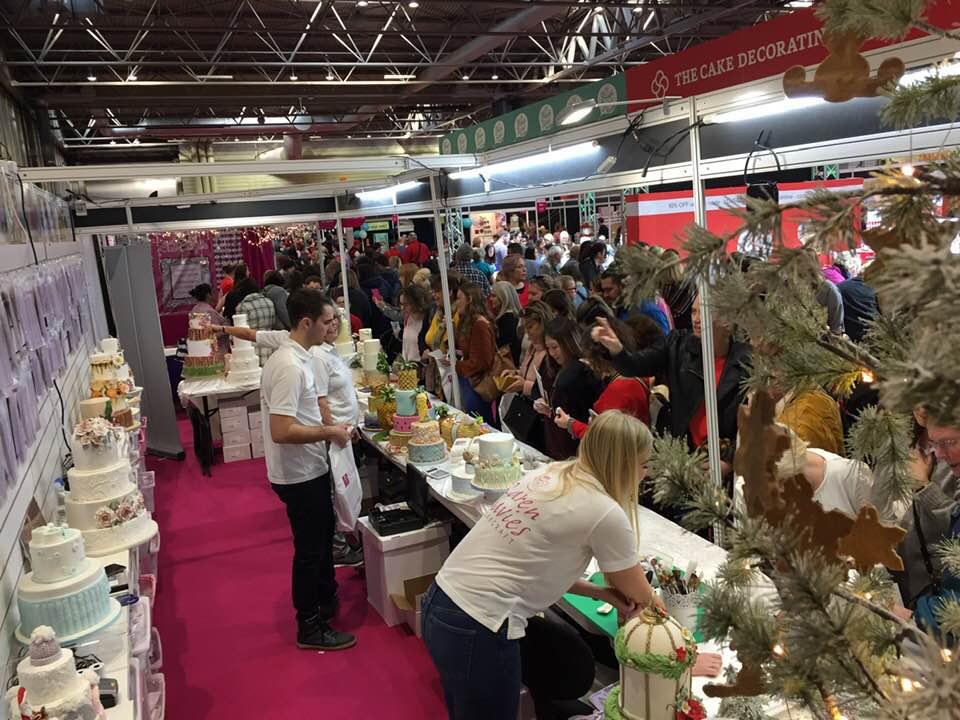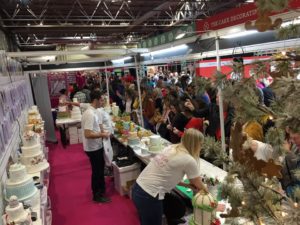 Saturday was slightly quieter and seemed to bring in a lot of new customers at the start of their cake decorating journeys.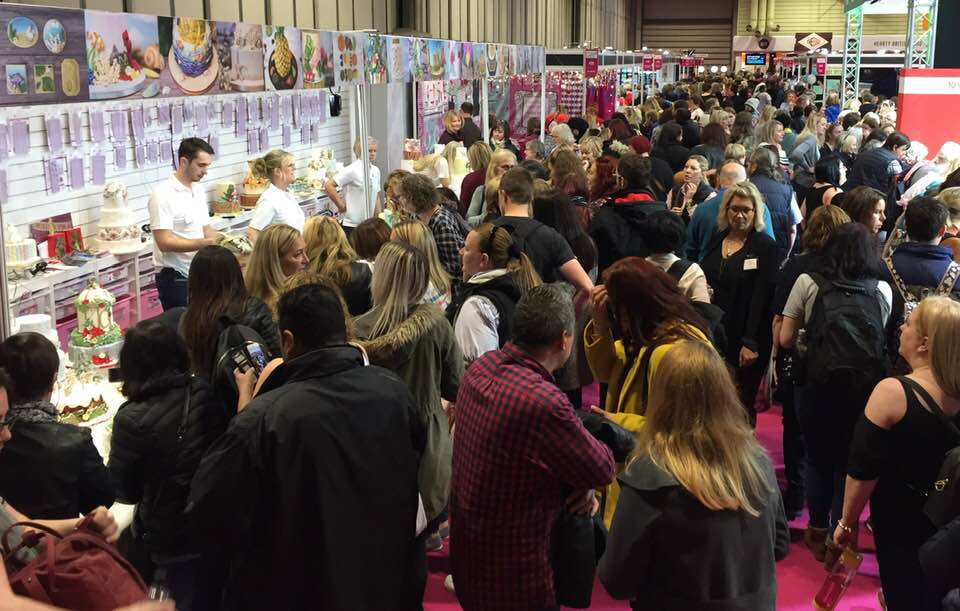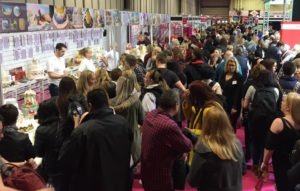 Alice even got chance to run off for 20 minutes at lunch time and quickly snap any fantastic cakes in the competition and on the display tables that had used our moulds!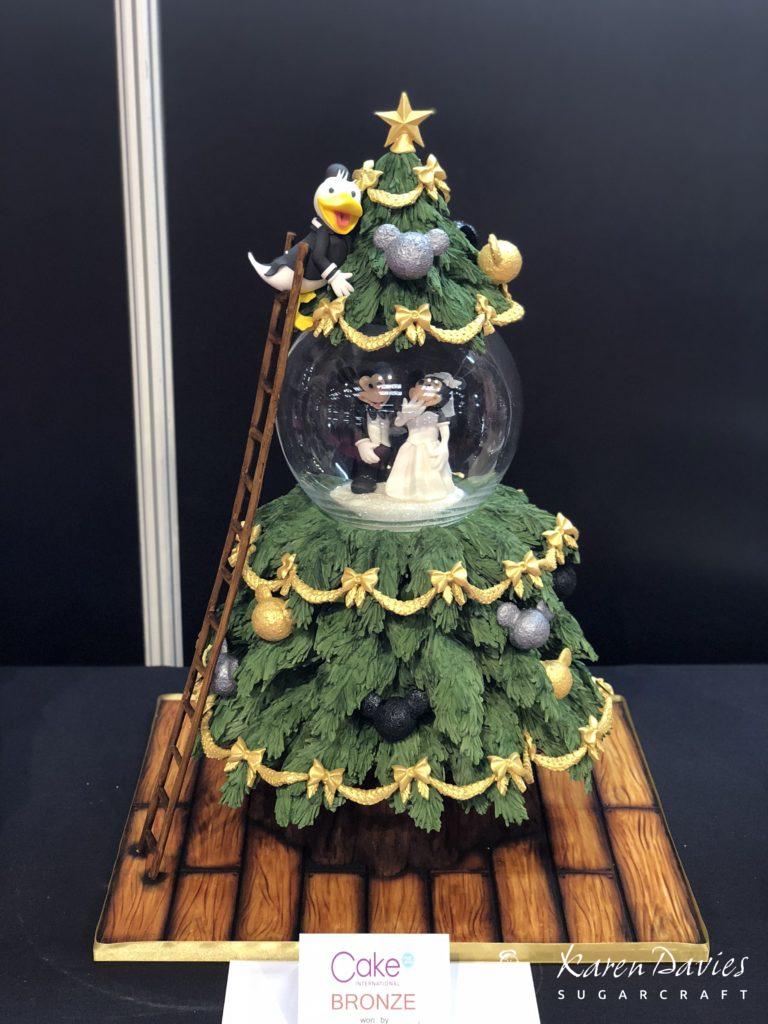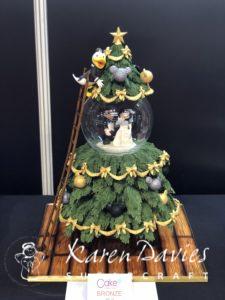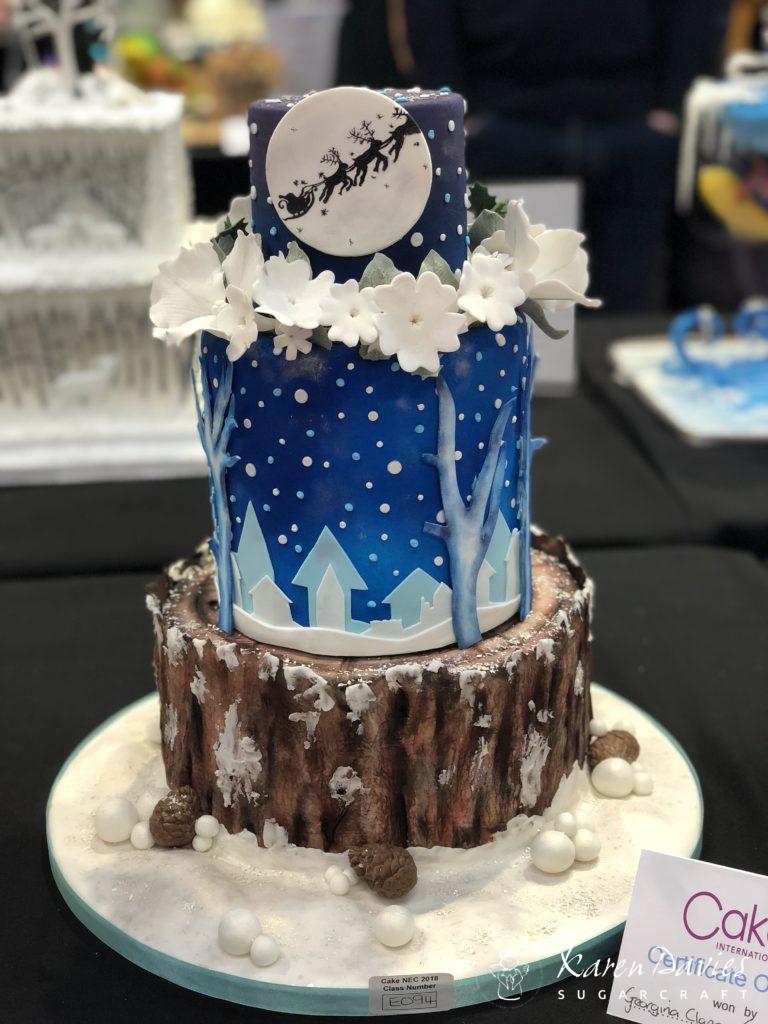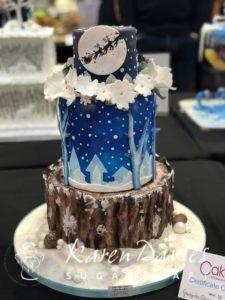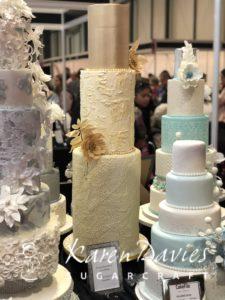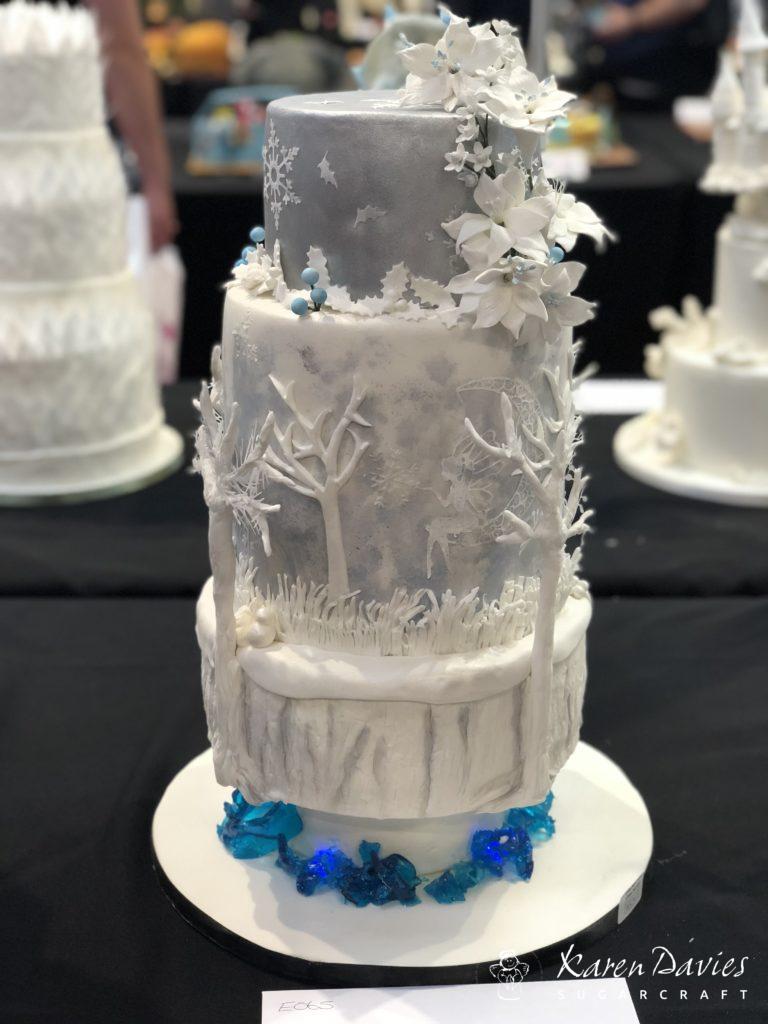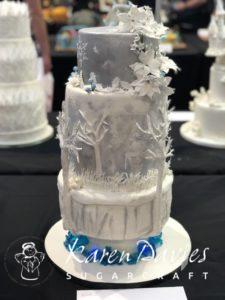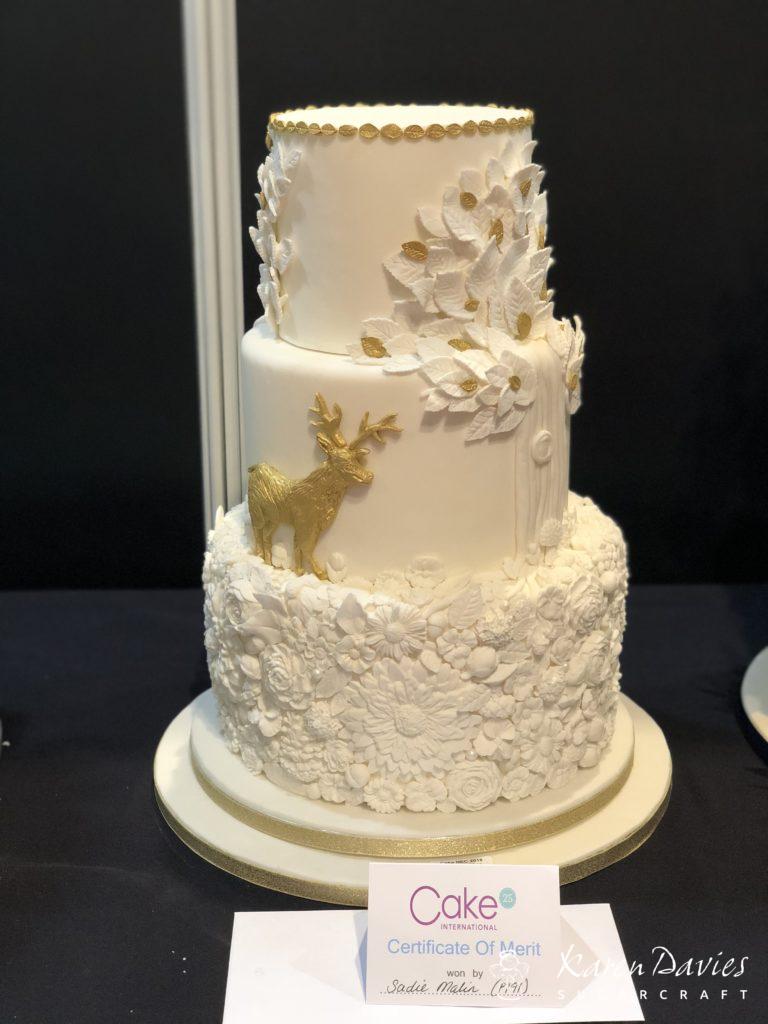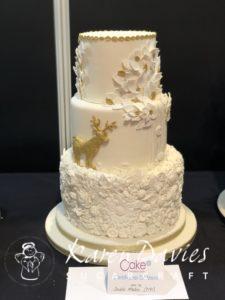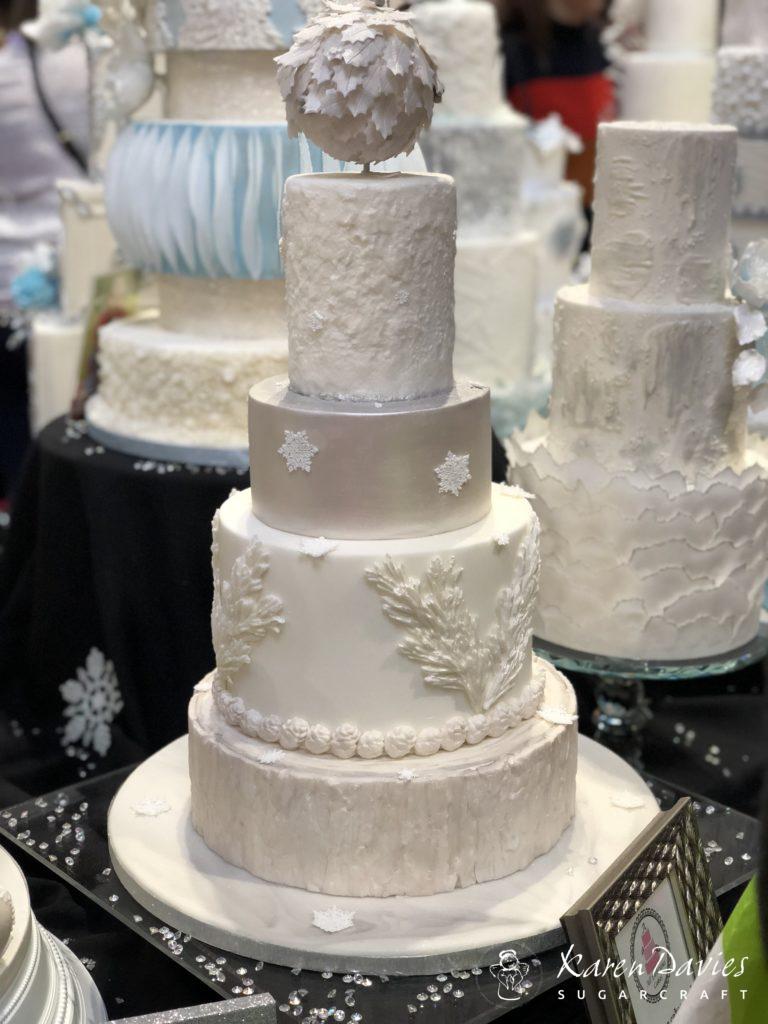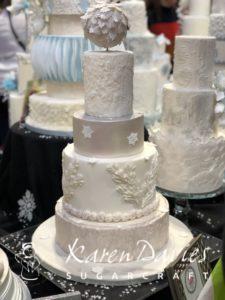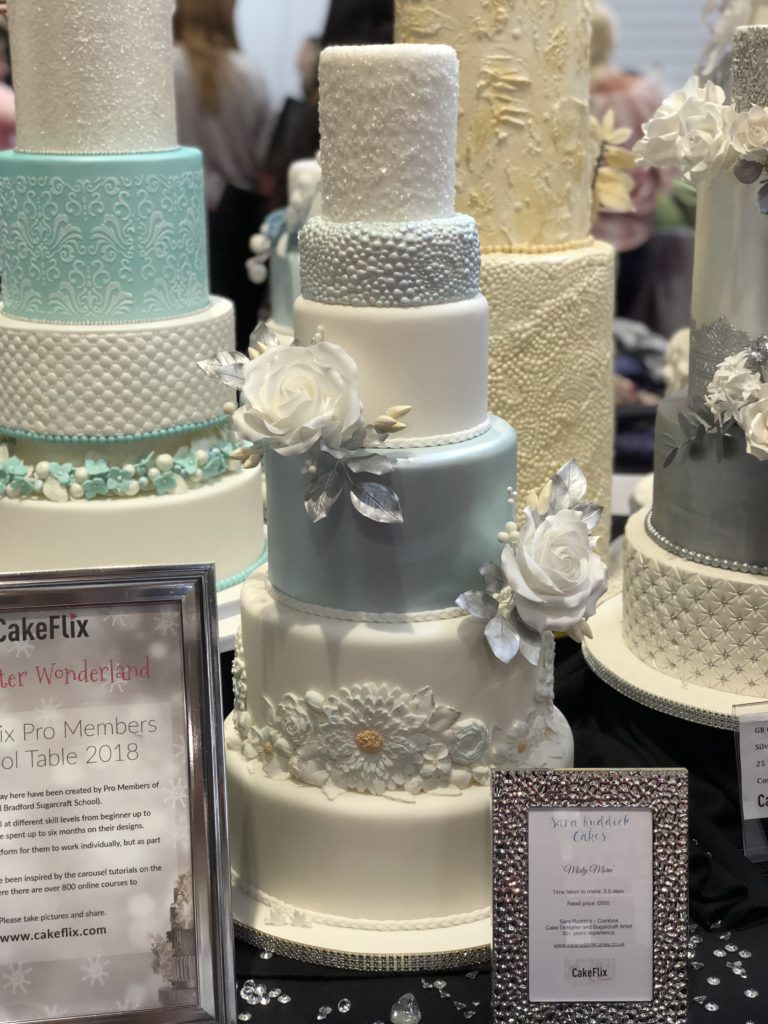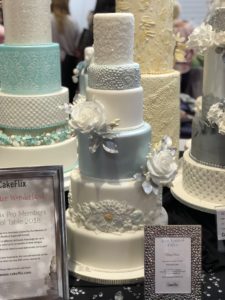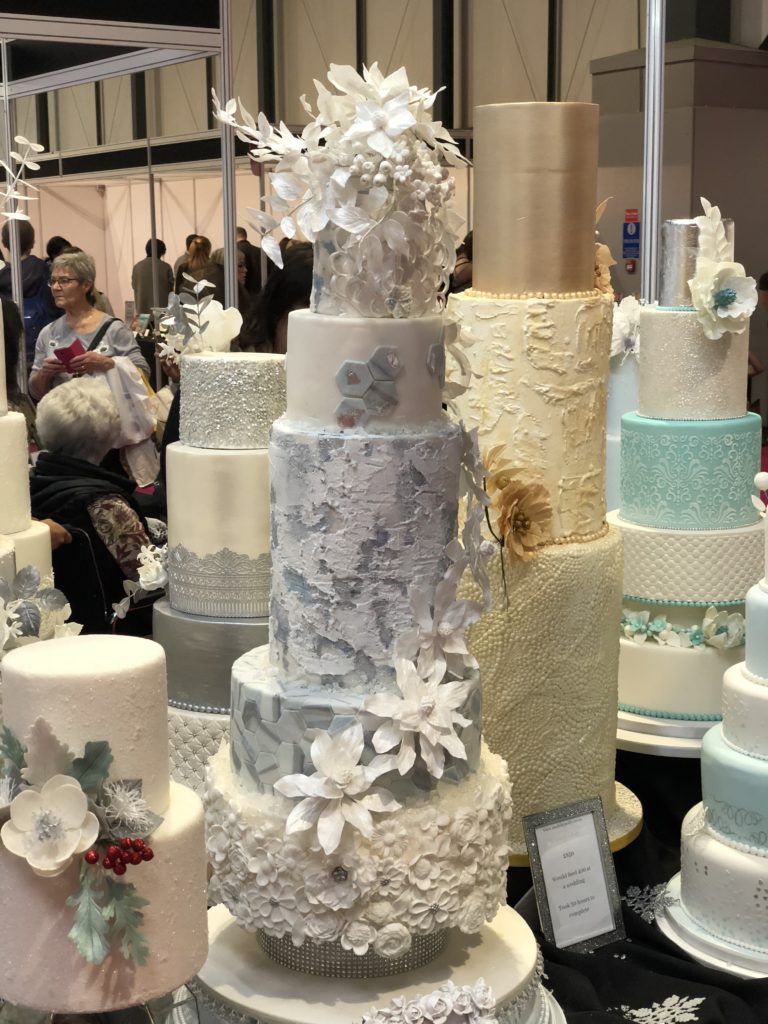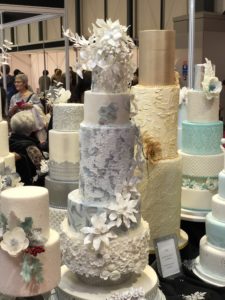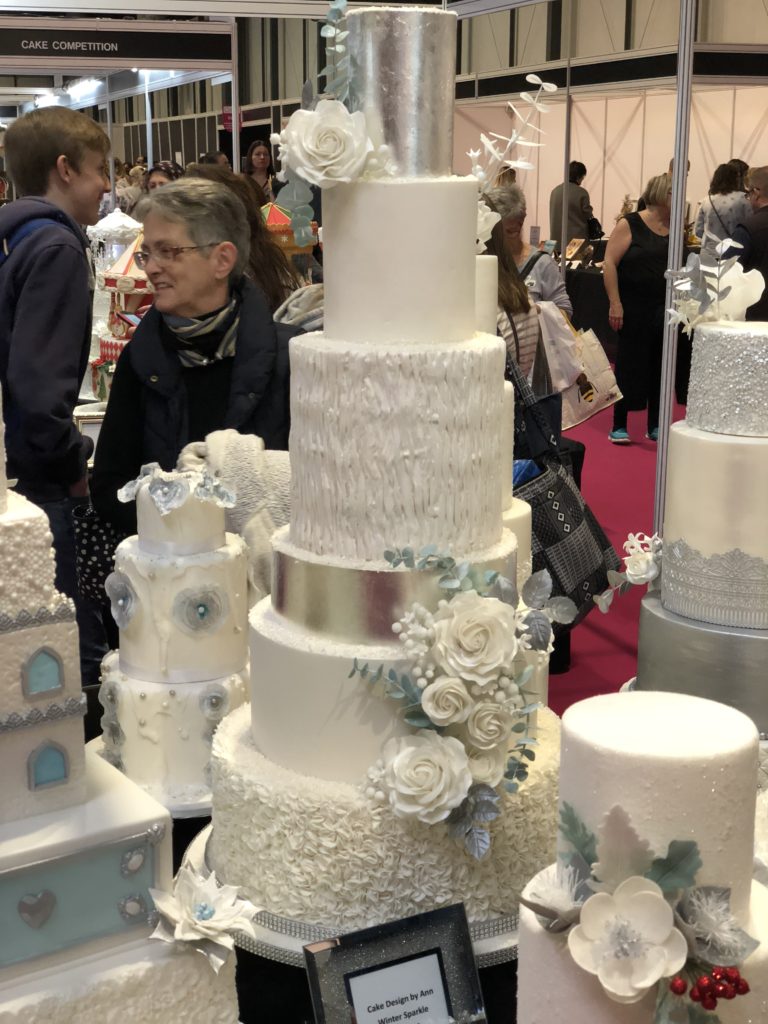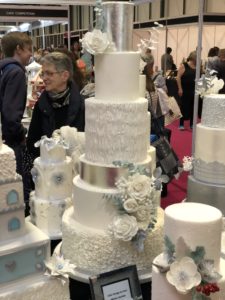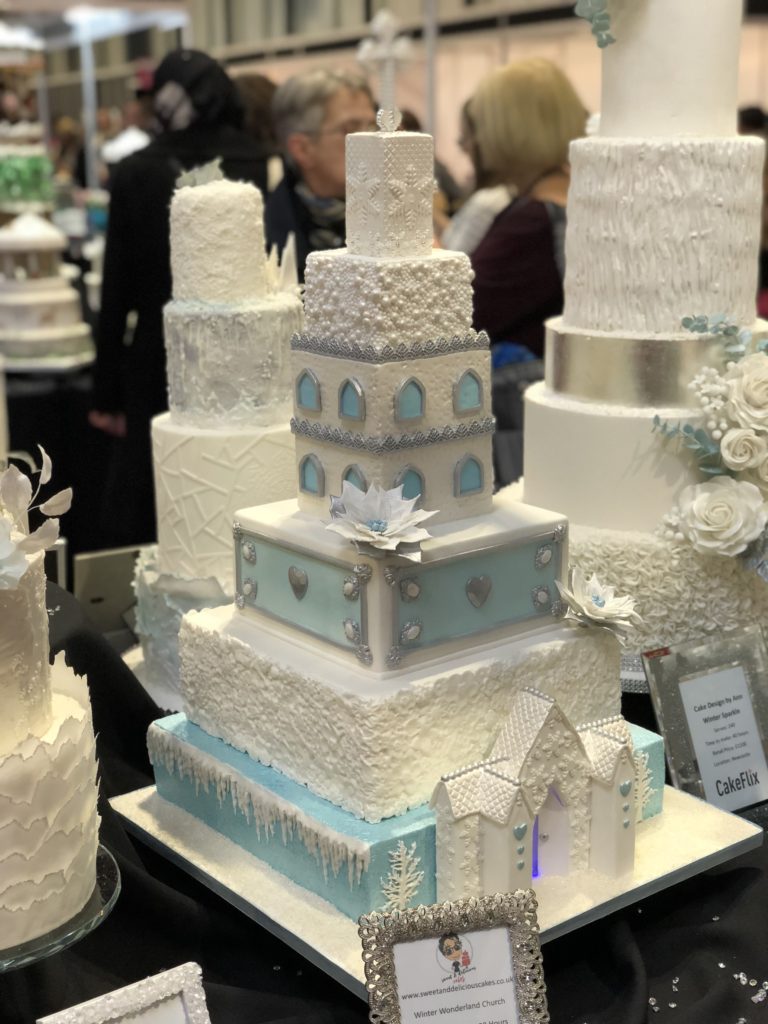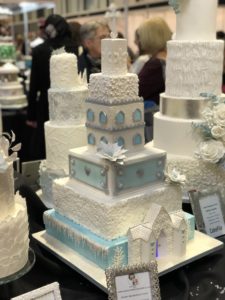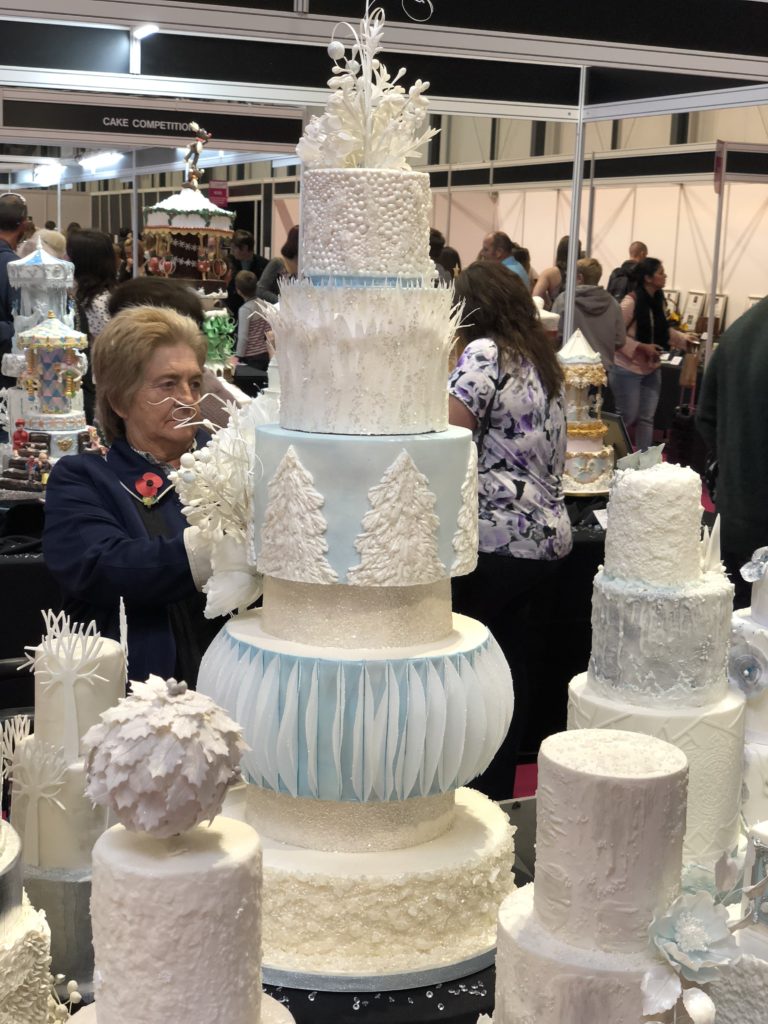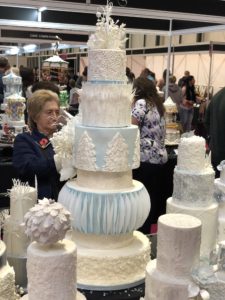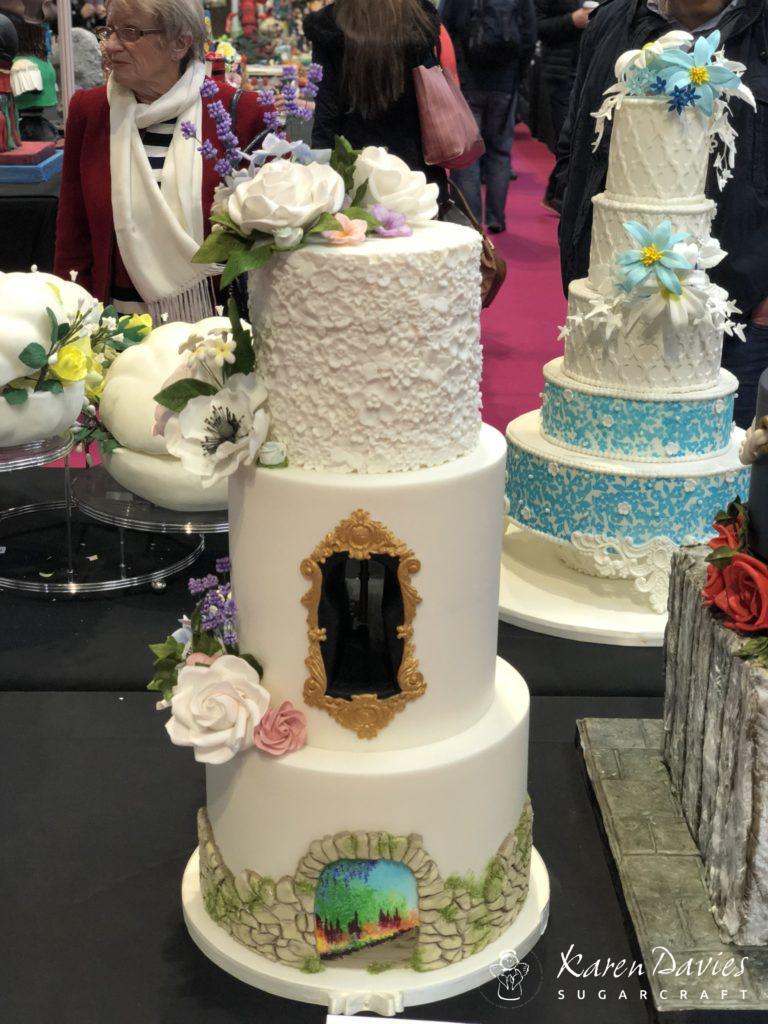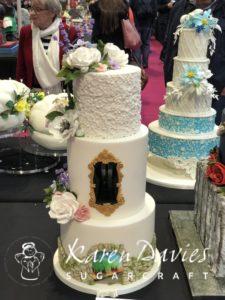 Saturday night was the Cake Masters Awards, hosted at the National Conference Centre. This is only the second year that we have attended and it's quite stressful working the show until 5 and then having to be at the awards ceremony for 6pm! But we found last year so inspiring and emotional that we couldn't miss out. We also made it a business goal of ours to be more involved this year. Our Sugar Flowers Mould was a finalist in the 'Best Product' Category! We were shocked and over the moon to find out that we had been nominated. The finalists alongside us were Sugar and Crumbs Natural Flavoured Icing Sugar, Blue Diamond Tool Set by Cerart, Avalon Cakes' Cake Sketching Templates, Simpress Cake Panel Makers, Faye Cahill Cake Design Lustre Dust, Half Sphere Multi Mould & Pre Cut Edible Transfers and Sweetstamp. The winner was Avalon Cakes' Cake Sketching Templates.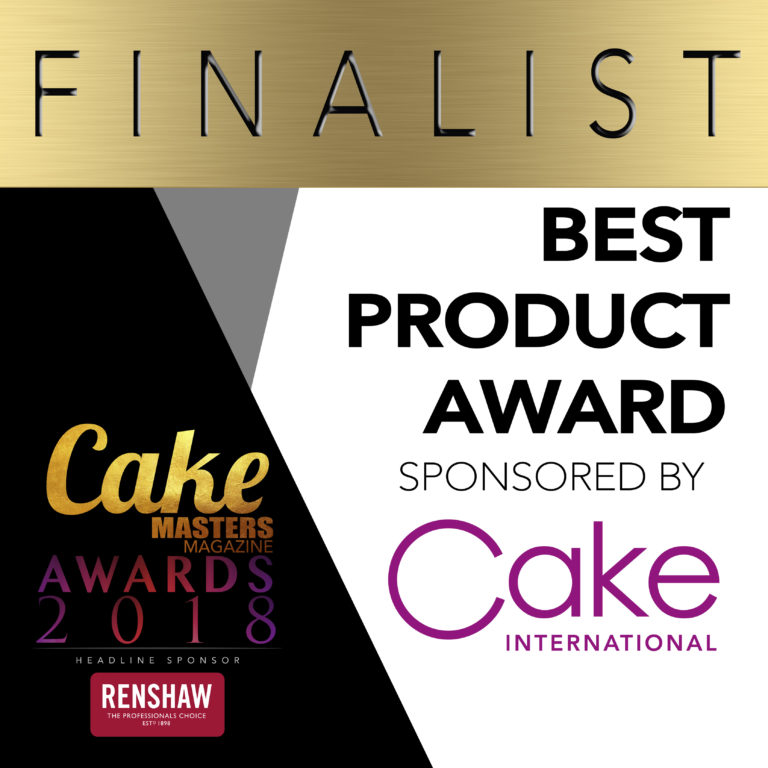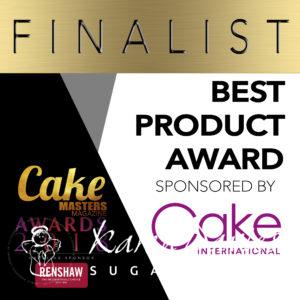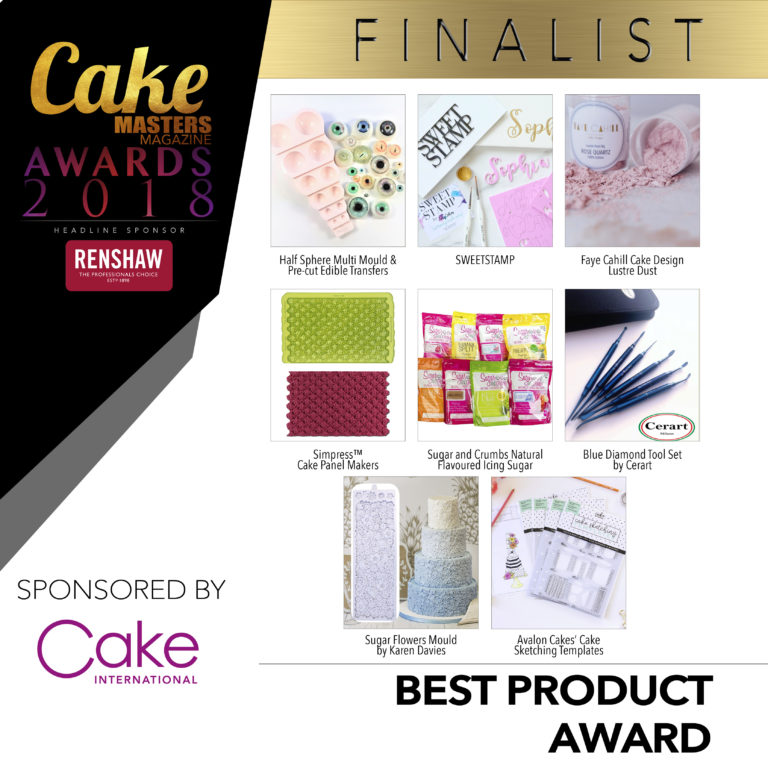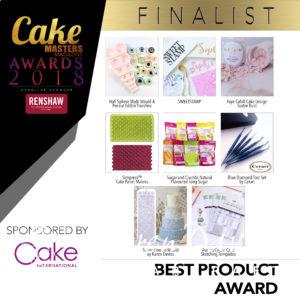 The highlight of the evening was seeing Eddie Spence MBE present the Royal Icing Award to Kelvin Chua. There wasn't a dry eye in the room as this was Eddie's last time at the show. Eddie is a wonderful kind hearted man and he is loved and admired and known for his work and personality throughout the industry. He will be truly missed at the shows!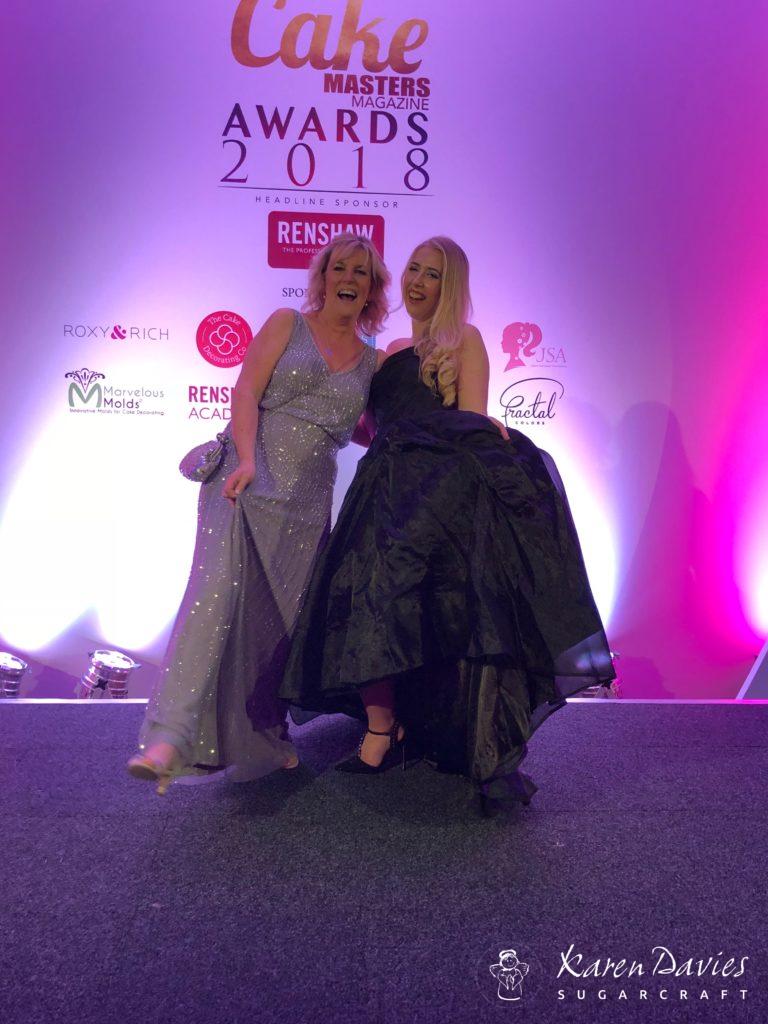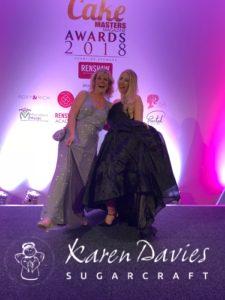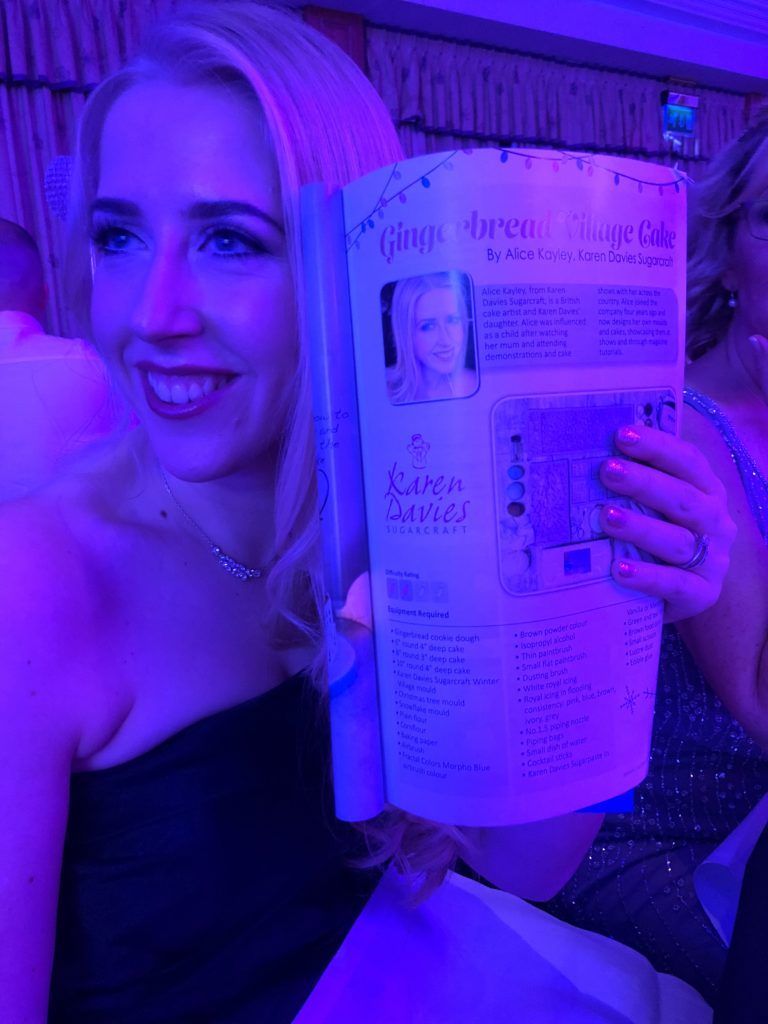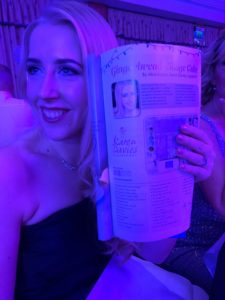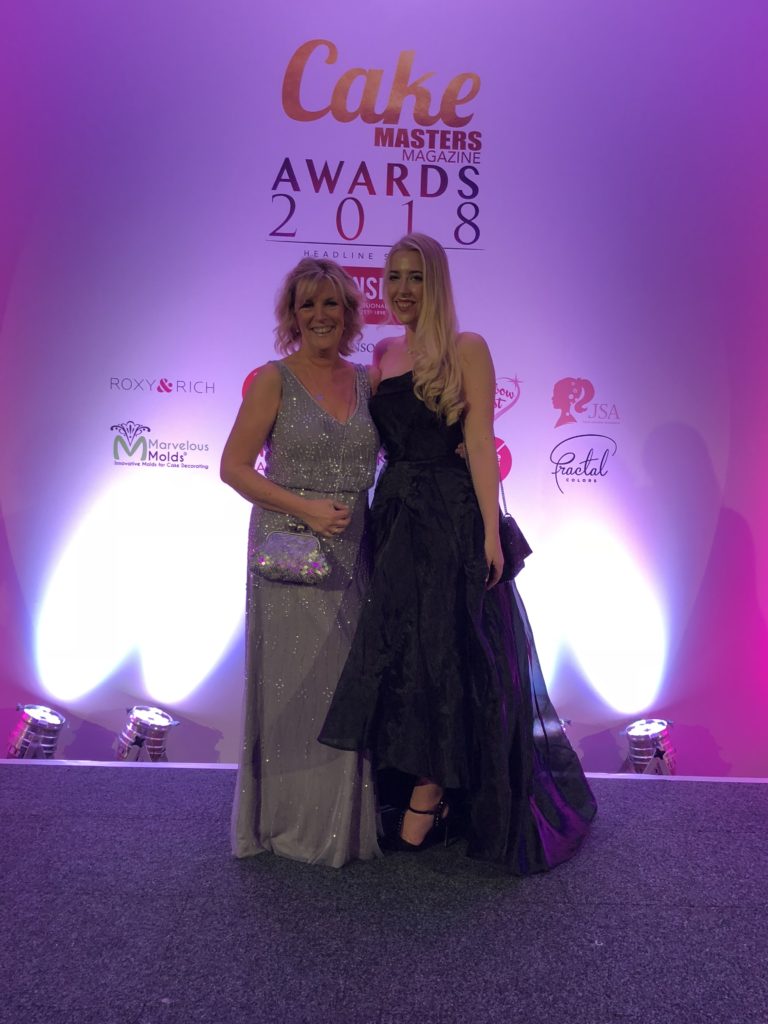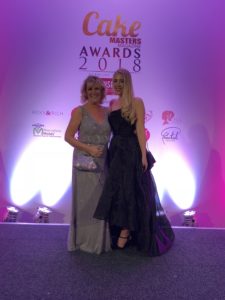 Tired and with a few sore heads we were ready for the third and final day of the show on Sunday!
Prize giving takes place for the competition and each year we sponsor the Junior category. 13 year old Sienna Bull created this incredible penguin cake. We were blown away by the standard of her work! Sienna won a hamper full of our moulds and sugarpaste. She has a bright future ahead of her, watch this space! We think she may be one to look out for in the future.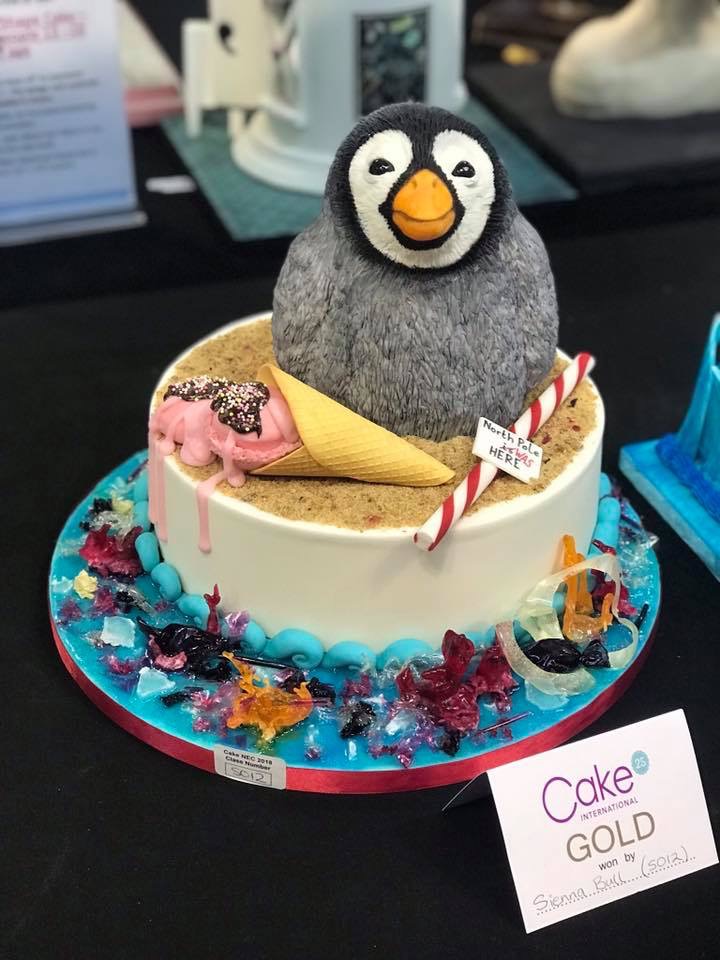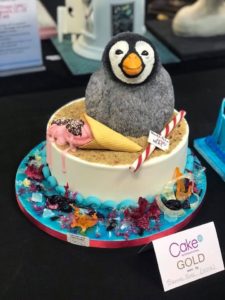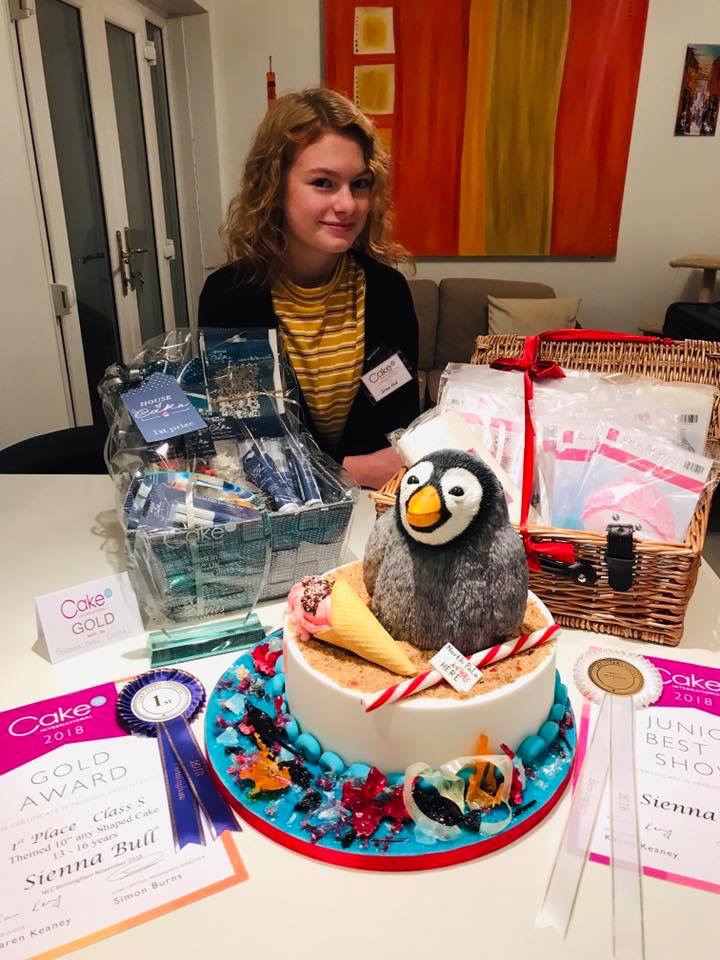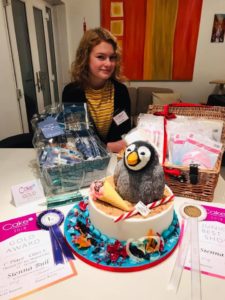 The show closes at an earlier time of 4pm on the Sunday. And that's it, Cake International 2018 comes to an end.
All of the attendees go home with their new goodies, competitors collect their cakes to proudly display at home and the hall descends into chaos as the traders all dismantle their stands!
Dismantling our stand and carefully packing away all of our cakes, cupcakes and cookies took just over 2 hours and we finally left the show at 6:30pm ready for the two and a half hour drive home.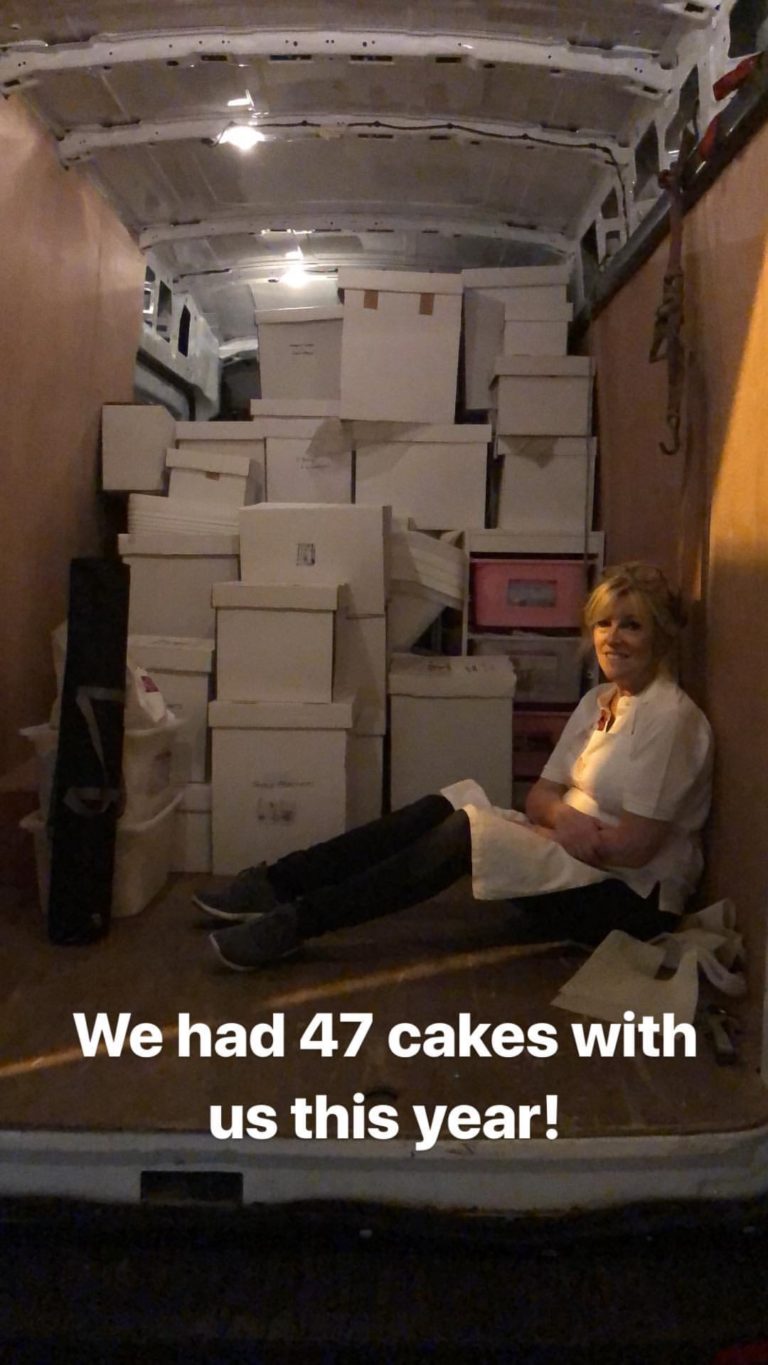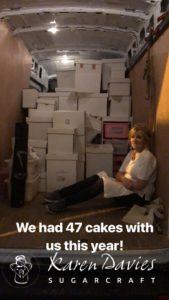 As we drove out of the NEC car park we spotted a 'don't drive tired' sign! Hmm..
And there's no rest for the wicked as we arrive back to work first thing on Monday morning with orders taken at the show for sold out stock and new shop orders waiting to be dispatched.
Our heads are still buzzing with adrenaline, lack of sleep and new ideas we're desperate to get started on! Any work that we start on now will be a contribution to what we bring to Cake International 2019!
Thank you to each and every one of our wonderful customers that visited us over the weekend. We love seeing so many familiar faces and meeting new ones! It's fantastic receiving direct feedback and seeing people's reactions to our cakes and products. Each year leaves us feeling inspired and also very tired!
Here's to Cake International 2019!