People often look at cakes and question 'where did they get the idea from'? 'where did they begin in making that'? and 'I wonder how long that took them'?
We interviewed teacher, author and cake artist Christina Ludlam of 'Cakey Bakey Art Sugarcraft School' to ask these probing questions and more! Christina often makes fantastic cakes for us incorporating our moulds and she often comes up with ideas we'd never ever think of ourselves.
Where did you find the inspiration to make this cake?
Believe it or not, the inspiration for this cake came from a new pair of pyjamas!  The pyjamas are very pale blue with raspberry coloured branches and flowers which I thought would look perfect with the little hummingbird from the Karen Davies Sugarcraft Tropical Birds Mould  and the apple blossom and leaves from the Buttercream Flowers Mould. I got a little carried away whilst painting and the end result looks nothing like the pyjamas but I love it just the same.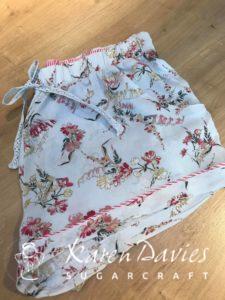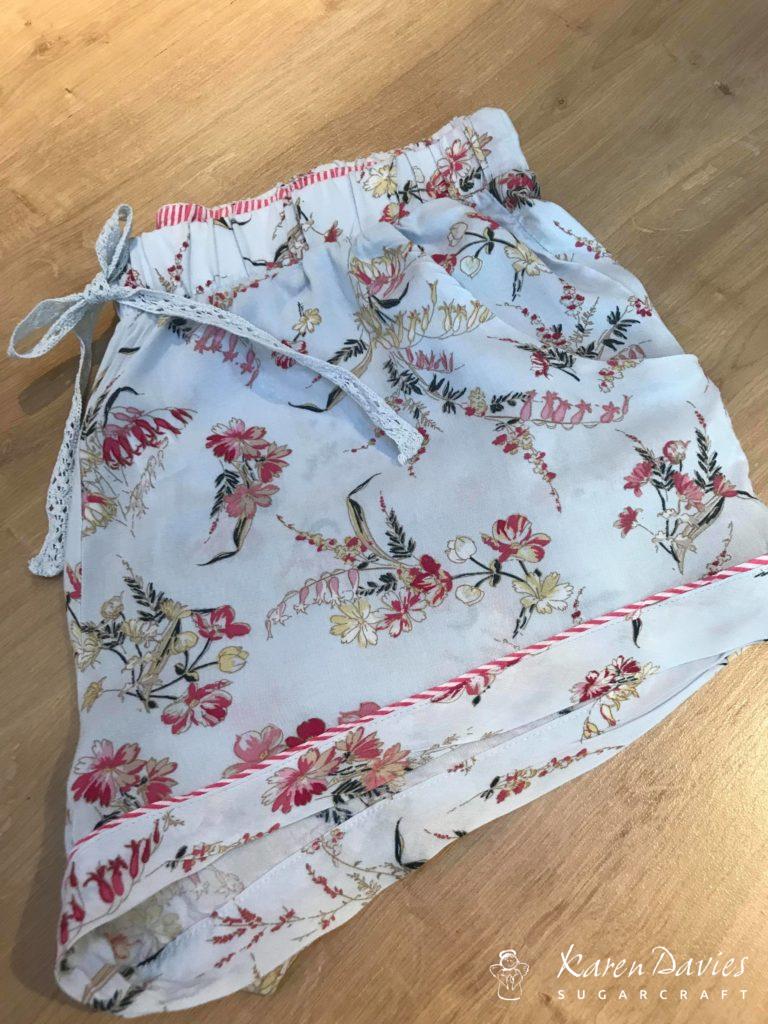 How did you colour the bottom tier?
I mixed Sugarflair Dusky Pink/Wine with Sugarflair Burgundy to achieve the raspberry colour I wanted.
How long did it take you to paint the second tier?
It took me a lot longer than I planned!  I was quite nervous as I don't think I've painted a cake since my college days but once I got started, I loved it and I ended up painting far more than I'd intended to paint.  I spent almost a full day painting it but I enjoyed every minute!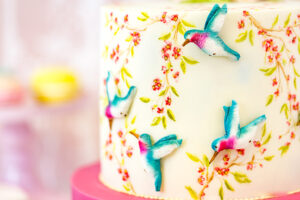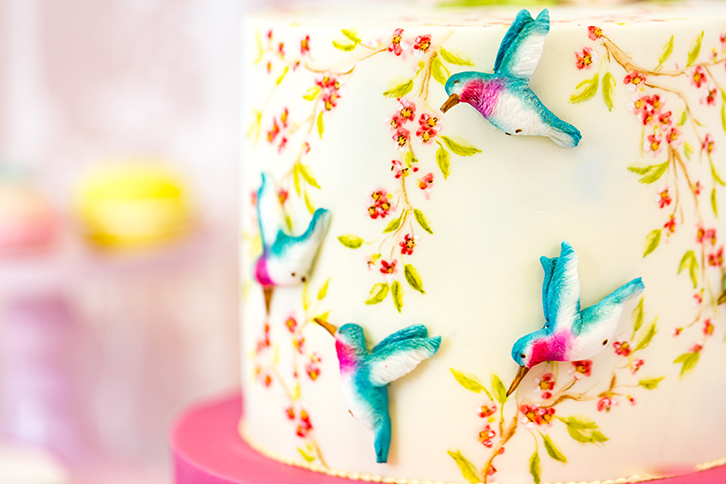 What colours did you use to paint?
I used Sugarflair paste colours: Dark Brown, Kiwi, Egg Yellow, Spruce Green, Dusky Pink.  I also used black and white powder colours.
What brushes did you use?
I painted most of it using a number '2' (round) sable paintbrush with a very sharp point.  I have some very fine '00000' sable paintbrushes which I used for the finer detail.
Who do you imagine this cake would be for/what occasion?
I think this is quite a feminine cake so I imagine it would be ideal for a ladies birthday, Mother's Day or even incorporated into a wedding cake design.
How long did the cake take you from start to finish?
I decorated this cake over two days, covering the cakes and drum, and making the moulded embellishments on day one.  I also stacked the cakes, attached them to the drum and piped the royal icing detail.  On day two, I painted the cake and added the moulded hummingbirds and buttercream flowers.
How did you create such sharp edges?
I love sharp edges! Holding two flexible plastic smoothers at right-angles on the top edges of the cake (one on the top edge and one on the upper side of the cake) whilst gently rubbing back and forth helps to create crisp, sharp edges.