The perfect addition to any English garden party! A custard cream!
Follow our recipe below and use with our Afternoon Tea Mould to create your own custard creams!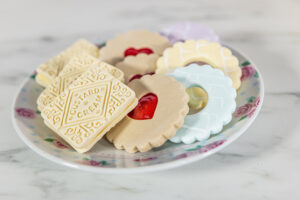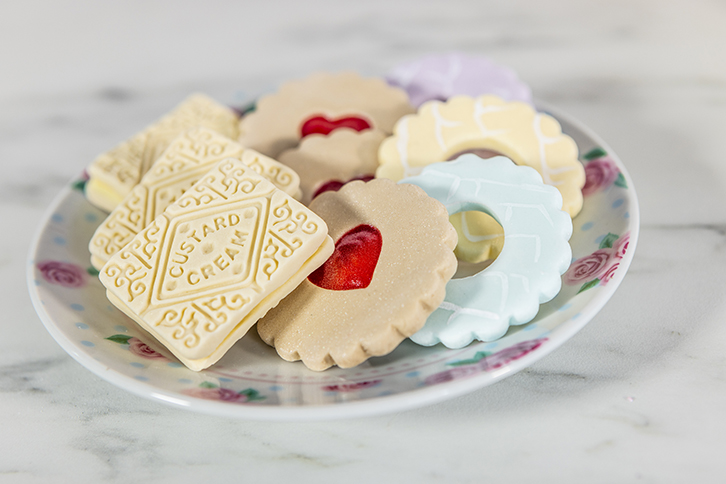 Prep Time 45 minutes
Cook Time 6 – 9 minutes
Ingredients
For the biscuits:
225 g soft butter
115 g sugar
1 tbsp vanilla extract or vanilla flavouring if you don't have extract
3 tbsp milk
340 g plain flour sieved
125 g instant custard powder
For the filling:
300 g icing sugar
150 g softened butter
2 tbsp instant custard powder
2 tsp vanilla extract again use vanilla flavouring if you don't have extract
Instructions
Cream together the butter and sugar until they are fully mixed together.
Mix in the vanilla extract and milk.
Add the sieved flour and custard powder.
Mix this all together until the ingredients produce a smooth dough.
Flatten the dough and wrap it in cling film. Place into your fridge for about 20 mins to firm up – this makes it easier to mould the biscuits.
Preheat your oven to gas mark 4, 180ºC, fan 160ºC.
Dust the mould with cornflour and tap out the excess. Press small pieces of dough – approximately 10g, into the mould. Remove and place on a baking tray lined with baking paper.
Bake in the oven and check regularly on them as they can burn quickly. You want them to be a light golden brown – this should take between six and nine minutes depending on your oven.
Remove the biscuits from the baking tray and leave to cool on a wire rack.
Whilst the biscuits are cooling, you can make the filling.
Cream together the icing sugar, butter, custard powder and vanilla extract until smooth. Once the biscuits are cool, spoon a teaspoon of the filling onto a slice of biscuit and then top with another biscuit slice.
Repeat until all your biscuits are filled full of custardy tasting deliciousness and then serve. Keep the biscuits in an air-tight container, as they will go soft if you don't, and they should keep for a few days.